Adding to a family means crying, clinging, sleeplessness … and that's just the dog
The dog market before the housing crisis was already distorted, with an oversupply of abandoned dogs resulting in euthanasia, and an undersupply of puppies from breeders, resulting in unethical breeder practices.
A COVID-driven demand for puppies followed closely by a rental crisis leading to many being surrendered has worsened the situation. Regional pounds are having to put down dogs that might ordinarily have got places in the city's no-kill shelters.
"Would I misbehave?" Bubbles is the third toddler in my extended family.
I am not saying all dog breeders, or all those who buy a "new" puppy, are unethical but we must test the validity of preconceptions about puppies and rescue dogs that contribute to this imbalance.
My observation of a new puppy joining a family member's household a couple of years ago, just as I had my own first baby, was that the two experiences seemed alarmingly similar. Crying, sleeplessness, noise, toileting, and separation anxiety have taken a couple of years and plenty of expense to get even remotely under control. Both for the dog and the baby.
Most of the canine issues were mitigated by training (puppy school was largely useless, Bark Busters was useful) but the process was very challenging for an owner who just wanted companionship.
One reader described getting a puppy as "like suddenly unleashing a toddler in your house again". She was brought to tears at some points wondering why she had done it (though now the puppy has settled nicely).
Maureen Guelfi, a Perth Bark Busters trainer with decades in the business, said small dogs and puppies tended to be treated like children, causing problems such as barking, separation anxiety, clinginess and pulling.
Particularly elderly people thought puppies and little dogs would be easy, she said, but puppies needed additional leadership to learn "how to be a dog".
"If you get an adult dog you don't have to worry about the toileting aspect, the little wees and poos everywhere," she said.
"They have outgrown the chewing, the nipping, the digging for play, all those juvenile baby behaviours, the gnawing of the furniture. They might better understand how to walk on a lead. Puppies are joyful and glorious – but not easy."
Shenton Park Dogs' Refuge Home president Karen Rhodes says they get smaller dogs in frequently but never have to advertise them as they go to people already on the books.
Ollie (3 year old Staffy mix) and Jack (6-year old shepherd mix) were surrendered for escaping and chasing sheep. They are affectionate and looking for a home together as they are the best of friends. They are friendly with other dogs, easy to walk, well mannered and suitable for owners who work full-time. Credit:Shenton Park Dogs' Refuge Home
She said many bigger dogs (kelpies a notable exception) were couch potatoes who needed daily walking but not a big yard.
Rhodes recommended people fill in a questionnaire and talk to an adoption person at the refuge to get personalised advice and a call when a potentially suitable dog arrived.
And greyhounds?
Toni Donnelly, chairwoman of Greyhound Adoptions WA, told me while a greyhound would occasionally perform the odd "zoomie", overall they were "basically couch potatoes once they settle".
They liked to be inside and were not inclined to bark, though some males tended to get some level of separation anxiety.
She had rehomed greyhounds with both young adults and 80-year-olds.
"They adapt and train quickly, they're disciplined dogs who have already been through boot camp and they are extremely affectionate," she said.
Glen Guelfi, husband of Maureen and also a trainer, echoed that each breed had its specifics – for example, huskies tended to run away when let off the lead.
He had found some little dogs were very snappy while bigger dogs tended to be more easygoing, but believed behaviour came from training, not size.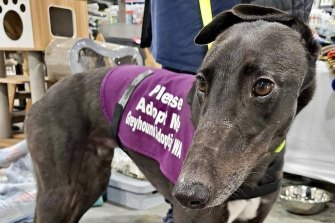 Curly is affectionate, friendly, good on a lead, and fine with other dogs and older kids (but not cats). He can be timid with new people but warms up quickly. He is still learning manners around human food but responds well to guidance and training. He is playful and likes squeaky toys.Credit:Greyhound Adoptions WA
Being little and cute, small dogs got away with more; a little Maltese running up to guests and jumping and barking tended to be excused, while a rottweiler wouldn't, he said.
One reader emailed pictures of her rottweiler-cross rescue hanging out with her 70-year-old mother's rottweiler rescue. "He's big so she doesn't trip on him, he's eight so very well behaved, doesn't bark much and has 40 kilograms to cuddle," she wrote.
What all this suggests to me is that training and socialising a dog to be an asset, not a headache, to a family represents a major upfront time commitment whether you get a "new" puppy or a rescue. The early days will be training-intensive for most dogs.
So given how many innocent canines are being euthanised and surrendered now, you might as well consider a rescue, take advantage of the expertise the shelters have on their dogs' breeds and personalities, and spend the savings on proper training.
I'll look into the training of adult dogs with specific issues next week and meanwhile, if you're in the market why not visit Shenton Park for a chat (or fill out a questionnaire online)?
You can meet and discuss greyhounds with the experts at weekend markets around Perth, details here.
Follow WAtoday on Instagram, LinkedIn, Facebook and Twitter for handpicked selections of the day's biggest local, national and international news.
Most Viewed in National
From our partners
Source: Read Full Article