Eurovision rejects Ukraine call to host contest in Kyiv, talks to BBC
Geneva: The organisers of the Eurovision Song Contest will start talks with the BBC about possibly holding next year's event in Britain after concluding that it cannot be held in war-torn Ukraine. Kyiv said it disagreed with the decision and called for "additional negotiations".
The event is traditionally staged by the previous year's winner. Last month, Ukrainian band Kalush Orchestra won the 2022 contest, pushing Britain into the runner-up spot thanks to a surge of popular votes from viewers. The win buoyed Ukrainian spirits amid the Russian invasion.
Ukraine's public broadcaster, UA:PBC, has staged the event twice before, in 2005 and 2017. The European Broadcasting Union said it had carried out "a full assessment and feasibility study" on the possibility of it doing so again.
It said the contest is one of the world's most complex television productions and needs 12 months of preparation time.
The contest's board released a statement saying it "has with deep regret concluded that, given the current circumstances, the security and operational guarantees required for a broadcaster to host, organise and produce the Eurovision Song Contest" cannot be fulfilled by the Ukrainian broadcaster.
It said it shares the broadcaster's "sadness and disappointment that next year's contest cannot be held in Ukraine".
"It is our full intention that Ukraine's win will be reflected in next year's shows," the union said. "This will be a priority for us in our discussions with the eventual hosts."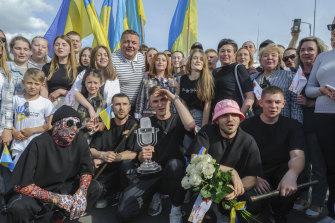 Oleh Psiuk, second from right, frontman of Ukraine's Kalush Orchestra, winners of the Eurovision Song Contest, and his band posed with the trophy in Krakovets, at the Ukraine border with Poland, in May. Credit:AP
Ukraine's Culture Minister Oleksandr Tkachenko and the country's three Eurovision winners to date released a statement with the national broadcaster pushing back against the decision, arguing that holding the contest in Ukraine would send a "strong signal" of support.
"We will demand to change this decision because we believe that we will be able to fulfil all the commitments we have made," the statement said. "That is why we demand additional negotiations on hosting Eurovision 2023 in Ukraine."
The BBC said in a statement that "clearly these aren't a set of circumstances that anyone would want," but that after the EBU decision "we will of course discuss the BBC hosting the Eurovision Song Contest".
British Prime Minister Boris Johnson's spokesman, Jamie Davies, said "Ukraine's victory in the Eurovision Song Contest was richly deserved" and Britain had hoped to see next year's event held in the winning country.
If that proved impossible, he said, "we would welcome the opportunity to work closely with Ukraine and the BBC to host it here in the UK".
It is not known if Johnson, who met Ukrainian President Volodymyr Zelensky in Kyiv on Saturday (AEST , discussed Eurovision on his second trip to the Ukrainian capital since Russia's invasion
Johnson, who survived a no confidence vote earlier this month, was greeted by Zelensky as a "great friend" and posted a picture of himself with the Ukrainian president, with the words "Mr President, Volodymyr, It is good to be in Kyiv again".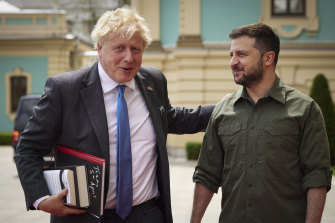 Boris Johnson skipped a Conservative conference in England's north to pay his second visit ato Ukrainian President Volodymyr Zelensky since the invasion began. Credit:Ukrainian Presidential Press Office
Johnson offered to launch a major training operation for Ukrainian forces, with the potential to train up to 10,000 soldiers every 120 days at the meeting, his office said.
"My visit today, in the depths of this war, is to send a clear and simple message to the Ukrainian people: the UK is with you, and we will be with you until you ultimately prevail," Johnson said.
"That is why I have offered President Zelenskiy a major new military training programme that could change the equation of this war – harnessing that most powerful of forces, the Ukrainian determination to win."
The unannounced trip was Johnson's latest show of support for Zelensky since Russia invaded Ukraine in February but might have come at the expense of his own MPs.
Some were angry after he cancelled an appearance at a conference in northern England, where some Conservatives won traditionally opposition Labour-supporting parliamentary seats for the first time in 2019.
The trip also came a day after the leaders of France, Germany, Italy and Romania travelled to Kyiv and endorsed Ukraine's candidate status to join the European Union.
Johnson, who faces political pressure at home, has grown in popularity in Ukraine as Britain has poured in military and political support to Kyiv during the Russian invasion.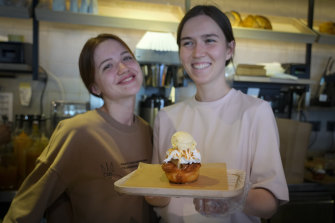 Kyiv's Boris Johnson cake is a puff pastry topped wikth meringue and ice cream. Credit:AP
One cafe in Kyiv is selling an apple dessert named the Borys Dzhonsonyuk, a Ukrainianised version of the prime minister's name.
AP, Reuters
Most Viewed in World
From our partners
Source: Read Full Article