'I transitioned to be happy': Lia Thomas breaks silence, reveals Olympic goal
American transgender swimmer Lia Thomas has spoken for the first time since becoming a lightning rod for the debate over equality in sport.
The University of Pennsylvania student became the first transgender swimmer to an American college title earlier this year, winning the 500-yard (457m) freestyle championship.
She declined all media requests during the NCAA (National Collegiate Athletic Association) championships in March but spoke to ESPN and ABC in the US overnight on Tuesday (AEST), saying her transitioning was never about gaining an advantage.
Thomas swam on the men's team at Penn for three seasons before joining the women's competition after a year off due to all college sport being cancelled in 2020 as a result of the COVID-19 pandemic.
"The biggest misconception, I think, is the reason I transitioned," Thomas said. "People will say, 'Oh, she just transitioned so she would have an advantage, so she could win.' I transitioned to be happy, to be true to myself."
Leading the charge against Thomas were World Athletics Federation president and dual Olympic gold medallist Sebastian Coe and swimmer Emma McKeon, Australia's most decorated Olympian.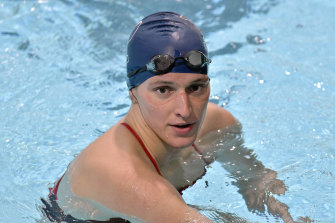 American swimmer Lia Thomas says she didn't transition to gain a competitive advantage.Credit:AP
Eleven-time Olympic medallist McKeon declared that competing against trans women was "just not fair" while Coe was even more direct, telling The Guardian that the "integrity and future of women's sport" was at stake, claims rejected by Thomas.
"Trans women competing in women's sports does not threaten women's sports as a whole," Thomas said. "Trans women are a very small minority of all athletes. The NCAA rules regarding trans women competing in women's sports have been around for 10-plus years. And we haven't seen any massive wave of trans women dominating.
"It's no different than a cis woman (a person who identifies as female which is the same as the sex they were assigned at birth) taking a spot on a travel team or a scholarship. It's a part of athletics, where people are competing against each other. It's not taking away opportunities from cis women, really. Trans women are women, so it's still a woman who is getting that scholarship or that opportunity."
Thomas was adamant the criticism would not stop her swimming, nor pursuing her Olympic dream.
"I've been able to do the sport that I love as my authentic self," she said. "It's been a goal of mine to swim at Olympic trials for a very long time, and I would love to see that through."
Sports news, results and expert commentary. Sign up for our Sport newsletter.
Most Viewed in Sport
From our partners
Source: Read Full Article