Same-sex marriage vote a 'turning point' in teal bloodbath of moderate Liberals
Federal election 2022
Outgoing finance minister and key Liberal moderate Simon Birmingham says the teal wave that saw independents sweep into formerly blue ribbon seats began years ago with the "unnecessary" same-sex marriage plebiscite and the party's failure to lock in an energy policy.
As the bloodletting began over "Morrisonism" and the collapse of the Liberal vote in wealthy and educated city seats, Birmingham identified "a number of points over time" in which the party fell foul of its once rusted-on supporters.
He named the 2017 plebiscite on same-sex marriage as the first, which dragged out the issue for "unnecessarily long".
"It was ultimately resolved, but it should have been resolved by a conscience vote at a much earlier point in time," Birmingham told ABC's Insiders on Sunday.
He said another key failure was the Coalition's inability to lock in Malcolm Turnbull's National Energy Guarantee, which ultimately led to Scott Morrison replacing Turnbull in August 2018.
"At that point there was an opportunity for the Liberal Party to lock into a policy in relation to energy markets and climate emissions reductions in the energy sector," Birmingham said. "The failure to be able to do so at that time has caused a significant price down the track."
He said the 2019 election result, where voters unexpectedly rejected Bill Shorten's Labor, masked factors at play in key Liberal seats which have come to the fore this time around, pointing to Tony Abbott's loss to independent Zali Steggall in Warringah as a canary in the coal mine.
"We should have acknowledged that had broader implications than just in relation to Tony," he said.
Voters' rejection of Labor's tax policies in 2019 "meant we were able to hold on in seats that perhaps had the same sentiment as Warringah but didn't quite go there last time", Birmingham said. "Now we're paying the price for that."
As of Sunday morning, that price included the loss of Josh Frydenberg's former seat of Kooyong; Tim Wilson's former seat of Goldstein in Melbourne; three Sydney seats – North Sydney, Mackellar and Wentworth; and the Western Australian seat of Curtin to Climate 200-backed teal independents.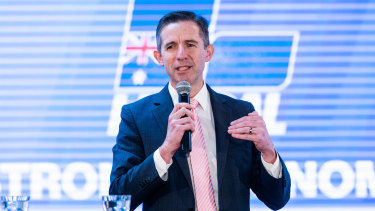 Outgoing finance minister Simon Birmingham has identified a number of key failures of the Liberal Part in losing the 2022 election. Credit:James Brickwood
While moderate Liberals pointed the finger at Morrison and his key lieutenant in NSW, Alex Hawke, some pointed out that senior moderates in cabinet – such as Birmingham and NSW Liberal senator Marise Payne – needed to take their share of the blame.
"Morrisonism was a disaster for the city seats. It should never have been allowed to happen. It should have been stopped by senior moderates," one moderate Liberal source told the Herald and The Age on Sunday, requesting anonymity.
"It shows there has been an institutional weakness which has got to stop. You can't hang it all on Morrison. It was facilitated by others. You can't hold yourself out to be a great lionness of the moderates and then be trampled by a bulldozer."
Moderate NSW Liberal figure and former Julie Bishop staffer Philip Citowiki said the party misread or failed to give due consideration to the massive swings against Abbott, and at a state level Tim James in Gladys Berejiklian's old seat of Willoughby.
"The hubris of the right reigned supreme," he told the Herald and The Age. "Somehow they thought the Abbott swing of 18 per cent was similar to how Howard lost his seat in 2007 – that was only a 5 per cent swing. They should have looked to the state seat of Willoughby and how bad misreading zeitgeist can be – also an 18 per cent swing!"
The Morning Edition newsletter is our guide to the day's most important and interesting stories, analysis and insights. Sign up here.
Most Viewed in Politics
From our partners
Source: Read Full Article