Coalition will import aged care workers and cover higher wages, minister says
The aged care services minister has backed workers' push for a pay rise and says the Coalition's new funding model will cover the costs, while unveiling a plan to recruit workers from overseas despite the government last month attacking a Labor plan to import workers.
In an interview with Council on the Ageing streamed on Facebook on Tuesday, Richard Colbeck said with unemployment low, "people have choices – and we don't want their remuneration to be an inhibitor to making the choice to work in residential aged care".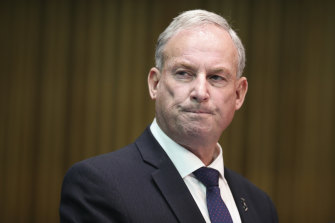 Aged Care Services Minister Richard Colbeck says the government will recruit aged care workers from overseas. Credit:Alex Ellinghausen
Colbeck said while the Fair Work Commission must assess the Health Services Union's case for a 25 per cent wage rise independently, "we are moving very much more closely to a broader care sector", echoing the union argument that the workers should be paid the same as disability carers.
"Making sure that the workforce are properly remunerated is very important," he said.
Federal Labor has criticised the government for refusing to put in a supporting submission to the Fair Work Commission wage case, which leader Anthony Albanese has promised to do if he wins the election.
Colbeck said the government's position on aged care wages was stronger than Labor's because its new funding model would "incorporate a regular assessment of the cost of delivery of care, including workforce", guaranteeing "the sustainability of the sector."
Neither major party has detailed how it will pay for higher aged care wages, which could cost $18 billion over four years, having ruled out a new levy.
Colbeck said improving efficiency in the sector – such as by upgrading IT systems – could free up carers to spend more time with residents.
He said a re-elected Coalition government would look to recruit aged care workers from overseas to fill gaps, saying: "We will be in a position to move very, very quickly after the election to facilitate some recruitment from overseas".
Two weeks ago, Health and Aged Care Minister Greg Hunt attacked Albanese after he acknowledged Labor's 24/7 nurse plan would rely on importing workers.
"Mr Albanese must immediately answer: How many nurses and doctors does he plan to recruit from overseas? Which countries will they come from? Will they take Australian jobs?" Hunt said in a statement at the time.
A Coalition spokesman declined to provide information about the government's plan to recruit aged care workers from overseas when asked for details on Tuesday.
Health Department modelling shows an extra 14,000 nurses are needed just to deliver the federal government's commitment to require aged care homes to have a registered nurse on-site for 16 hours a day by October 2023. About 2500 more would be needed to meet Labor's promise to mandate 24/7 registered nurses from July 2023.
In 2020-21, 3670 registered nurses entered Australia on skilled visas under the permanent migration program, and 666 on temporary visas – a tiny fraction of the national workforce of almost 400,000 nurses.
The top source countries for overseas-trained nurses coming to Australia are the Philippines, India, Ireland and the United Kingdom.
Morrison said on Saturday that "skilled migration has always been an important part of our skills mix [and] provided much-needed assistance in areas of skills shortage", pointing to the 110,000 skilled migration places available over the next financial year.
Shadow treasurer Jim Chalmers said last week that Labor was "up for a sensible conversation about the optimal migration mix as we emerge from the pandemic".
Cut through the noise of the federal election campaign with news, views and expert analysis from Jacqueline Maley. Sign up to our Australia Votes 2022 newsletter here.
Most Viewed in Politics
From our partners
Source: Read Full Article