Great Debate lived up to its name
In the vast wilderness of daft opinion on Nine's Great Debate the summit of stupidity is the complaint that 60 seconds isn't enough time for a politician to answer a question.
Abraham Lincoln's Gettysburg Address is 272 words long. It lasted two minutes and echoes through history. A well-known orator, Edward Everett, spoke before Lincoln. His speech ran for two hours. No one remembers a word of it. Or him.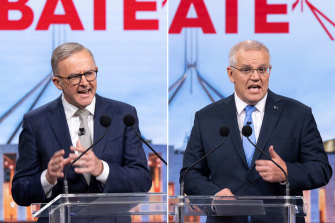 Anthony Albanese and Scott Morrison face off during the Great Debate on Nine, the owner of this masthead. Credit:James Brickwood
Communicating well is not done by the one who speaks most but by the one who speaks most effectively.
This point is routinely lost on print commentators who wallow in a sea of words, but if you work in TV or radio news then every word is a race against an unforgiving clock. Conveying meaning in a 30-second radio story or 90 seconds of TV news means words must be shaved to the point.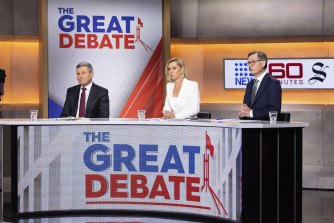 Chris Uhlmann, Deborah Knight and the Herald's David Crowe asked the questions.Credit:Alex Ellinghausen
The complaint about the paltry "60-second slivers" featured in what ranks as the performance art piece of outrage thundered at Nine's debate in many, many words by The Guardian.
This one has it all – indignation, fury, incomprehension and moralising – and claims there were no highlights or insight in all the noise.
The Guardian is a great British institution that, in its Australian incarnation, is said to be the love child of Malcolm Turnbull. Or at least he claims credit for it.
It is odd that an organ so angrily post-Christian behaves so much like the medieval church, because it has appointed itself the guardian of the constantly shifting sands of modern virtue, and routinely conducts witch-hunts. It is also so disconnected from Australia's sources of wealth, food and power that it spends most of its time campaigning to shut them down.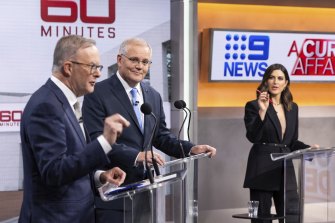 Anthony Albanese, Scott Morrison and moderator Sarah Abo.Credit:Alex Ellinghausen
I have some sympathy. I lived in a monastery myself once and appreciate it's a hard life. All the rules, the endless stress of having to avoid the occasion of sin. But imagine that trauma multiplied a thousand times by having to keep pace with today's morality: the chance of misgendering someone; the angst that could be caused by accidently eating a caged egg; or knowing that your Tesla really runs on coal.
For a Guardian journalist, even tuning in to Channel Nine would be the equivalent of landing on Mars. Here is a strange world of suburban bogans who watch rugby league and Married at First Sight and – quelle horreur – are allowed to vote!
Given the debate was so incomprehensible to some, I feel obliged to attempt to explain, since I had a role in Sunday night's offence. It actually isn't that hard because a thoughtful, alternative view was written by The Australian Financial Review's Phil Coorey.
He notes that the debate had passion and delivered news. "It may have been less edifying to watch, but it was more honest, and it produced more honest answers. Albanese finally admitted he could not guarantee wages would rise faster than inflation under his watch. It was only an 'objective'," Coorey writes.
"Morrison conceded for the first time he should not have said the vaccine rollout was not a race. Albanese still has no answer for why he never properly addressed the Kimberly Kitching bullying claims, or how spending $20 billion to upgrade the east coast electricity transmission network won't be passed on to consumers."
In its wake, the debate has been referenced in numerous articles about real wages, power prices, the sale of the Port of Darwin and honesty in politics. The Australian Associated Press summary of the debate's key moments found 20 worthy of note.
But most of all it was revealing of character. No one made the leaders engage in hand-to-hand combat, it was their choice. And once they engaged, they were given their head because we wanted … surprise … a debate. The confrontation revealed one candidate who wanted to prove he wasn't weak against one fighting for his political life.
It was all conducted before the biggest crowd either leader will get in this campaign. At its peak, the television audience hit 1.178 million. It averaged 904,000 viewers across metropolitan and regional markets and another 70,000 watched 9NOW.
On Nine's Facebook pages there were 1.2 million video views, with 250,000 on Twitter and 50,000 on Instagram. There was heavy traffic on The Sydney Morning Herald and The Age sites, and it was broadcast live on 2GB, 3AW, 4BC and 6PR.
We are still breaking the numbers down, but the reach of this debate currently stands at more than 3 million viewers, listeners and readers.
There were problems with the QR voting system because it was overwhelmed, but 180,000 people cast a vote on the winner. That delivered a draw, but the bad news for the Coalition is that 20,000 responses on voting intention mirror the latest Newspoll result, which shows Labor leading the Coalition 54-46.
I have been involved in more debates than most and this was by far the best in production, execution and content, and I am very proud of my network. Let 1000 opinions bloom; they will swiftly be forgotten, but this debate will be remembered.
Chris Uhlmann is Nine's political editor.
Cut through the noise of the federal election campaign with news, views and expert analysis from Jacqueline Maley. Sign up to our Australia Votes 2022 newsletter here.
Most Viewed in National
From our partners
Source: Read Full Article