'Better Call Saul' Season 6 Episode 5 Recap: 'Black and Blue'
Better Call Saul Season 6 Episode 5 is arguably the final outing's slowest chapter so far, but it moves Jimmy (Bob Odenkirk), Kim (Rhea Seehorn), and Howard's (Patrick Fabian) storylines forward and offers an update on Lalo Salamanca (Tony Dalton). While tensions aren't as high this week, "Black and Blue" is clearly building to something big — and it's using the prequel's previous storylines to do it.
[Warning: Major spoilers ahead for Better Call Saul Season 6 Episode 5, "Black and Blue."]
Kim Wexler keeps secrets in 'Better Call Saul' Season 6 Episode 5
Better Call Saul Season 6 Episode 5 picks up where Jimmy and Kim left off. Kim is grappling with Lalo's survival, and Jimmy is still in the dark about Mike's (Jonathan Banks) message. It's clear Kim is shaken after her conversation with him. However, fans hoping she might fill Jimmy in on what she learned during "Hit and Run" will find themselves disappointed.
Jimmy can hardly miss the fact that Kim is up at night pacing and placing chairs in front of their front door. However, she never tells him why she's so spooked, raising all kinds of questions about their next run-in with Lalo. It's sure to take Jimmy by surprise. And it's not clear why Kim hasn't told him. Perhaps she thinks she's protecting him.
Jimmy's choices aren't the only ones bothering Kim this week. The latest installment sees her meeting with Viola (Keiko Agena), the paralegal she used to work with. Viola's spoken admiration for her touches a nerve. Perhaps she's realizing how different the personas she's crafted are — and what could unfold if the other side of her was ever exposed.
Overall, Better Call Saul Season 6 Episode 5 drives home what a dangerous game Kim is playing.
Howard and Jimmy punch it out in 'Black and Blue'
While Kim worries about Lalo in Better Call Saul Season 6 Episode 5, Jimmy receives a surprise visit from Howard Hamlin. That's right, Howard puts two and two together this week after a conversation with Cliff Main (Ed Begley Jr.). Cliff remains convinced that Howard pushed a girl out of his car. But Howard understands that Jimmy and Kim are behind the fake drugs in his locker, as well as the scene Cliff is referring to.
Pretending to be a client seeking services from Jimmy, Howard sets up a meeting between them. He then challenges Jimmy to a boxing match — an odd suggestion, but one that allows the two men to release some frustration. Of course, it's not enough to stop Howard from sending a private investigator to tail Jimmy afterward. And he's right to be suspicious: Jimmy and Kim do, in fact, have more up their sleeves.
When Jimmy comes home bruised from his boxing match, Kim laughs that they "know what's coming." It's an ominous place to leave things for them, but it suggests the Howard storyline will only get more tense going forward.
Perhaps Gus should worry about Lalo in 'Better Call Saul' Season 6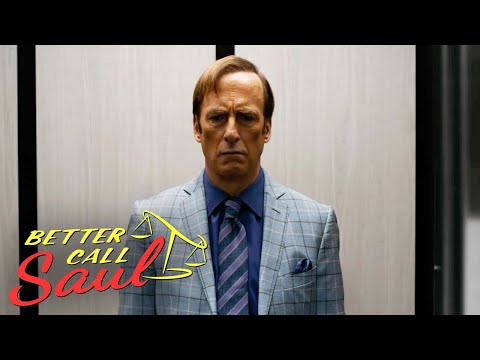 Better Call Saul promises big things to come for Jimmy and Kim, but season 6 episode 5 also continues building toward a showdown between Gus (Giancarlo Esposito) and Lalo. Gus is noticeably anxious throughout "Black and Blue," left to wonder when and where his opponent will show up. Mike serves as the voice of reason during many of these moments, but it's clear Gus is barely keeping it together.
Lalo, on the other hand, is biding his time — and bringing one of Better Call Saul Season 4's storylines back to get his revenge. "Black and Blue" sees him visiting Margarethe Ziegler (Andrea Sooch), the widow of the engineer Gus and Mike killed while working on their meth lab. Lalo approaches her at a bar, all charm and smiles. However, his questions make it obvious to the viewer that he's looking for information.
Him breaking into Margarethe's home the following day underscores that point, though it's unclear what he's searching for. The final moments of "Black and Blue" ramp up the tension as Margarethe returns to her house. Fortunately, she doesn't catch Lalo — and he doesn't go out of his way to harm her. Of course, he may have further plans for her.
We'll have to see what Lalo's next move is when Better Call Saul returns. Whatever he's after, it's bound to leave Gus in a precarious situation. And given how high-strung Gus is currently, things should get interesting.
Source: Read Full Article