US anti-abortion office hit by Molotov cocktail after threat painted on wall
Madison: Remains of a Molotov cocktail were found at an anti-abortion campaign office in Wisconsin set alight by vandals.
The walls of the office of Wisconsin Family Action in Madison, Wisconsin were spray-painted with a threatening message: "If abortions aren't safe then you aren't either."
It was not immediately clear who vandalised the building or set it alight – or even if the two attacks were carried out by the same people – but Madison police said federal authorities are helping to investigate the incident, which was reported shortly after 6pm on Sunday night, Madison local time.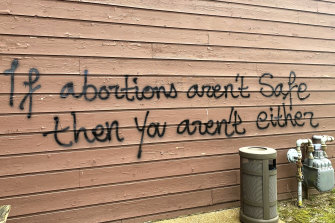 Threatening graffiti on the wall of the Family Action officeCredit:Wisconsin State Journal
No one was injured, and officials were still working to determine how much damage the fire caused.
"It appears a specific non-profit that supports anti-abortion measures was targeted," Madison Police Chief Shon Barnes said in a statement.
The president of the lobbying group, Julaine Appling, said she considers the fire a "direct threat against us" given that it happened just a few days after a draft of a US Supreme Court opinion was leaked suggesting the court may soon overturn the Roe v. Wade decision that legalised abortion in the United States. She said people could have been hurt if they had been working in the office at the time.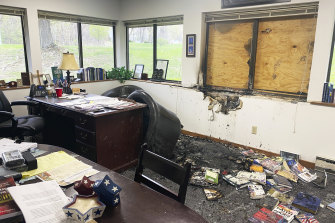 The office was badly damaged but nobody was injured.Credit:Wisconsin Family Journal
"This is the local manifestation of the anger and the lack of tolerance from the pro-abortion people toward those of us who are pro-life," Appling said, who said investigators found the remnants of at least one Molotov cocktail.
Appling said her group won't be intimidated by the vandalism.
"We will repair our offices, remain on the job, and build an even stronger grassroots effort," Appling said. "We will not back down. We will not stop doing what we are doing. Too much is at stake."
Wisconsin Family Action says on its website it seeks to advance "Judeo-Christian principles". It supports marriage as being "between one man and one woman" and the promotion of abstinence in the secondary school system. The group says it also opposes laws that support abortion.
The Supreme Court draft opinion, written by conservative Justice Samuel Alito and published on May 2 by the Politico news outlet, would uphold a Mississippi law banning abortions after 15 weeks of pregnancy and overturn the landmark 1973 Roe v Wade decision that legalised abortion nationwide.
The leak set off a political firestorm, with abortion-rights supporters staging rallies outside the courthouse and at locations around the United States, as well as an internal crisis at the nation's top judicial body where an investigation into the source of the unprecedented disclosure is underway.
Abortion in Wisconsin is legal up to the 22nd week of pregnancy, and Democrat Governor Tony Evers is a staunch supporter of the right to abortion, vetoing five Republican anti-abortion bills in one day in December 2021.
A Planned Parenthood clinic in Grand Chute, Wisconsin, was fire-bombed in 2012, but nobody was injured.
Wisconsin politicians from both parties, including the governor and Republican Senator Ron Johnson, swiftly criticised the vandalism on Sunday.
"We condemn violence and hatred in all forms, including the actions at Wisconsin Family Action in Madison last night," Evers said in a tweet. "We reject violence against any person for disagreeing with another's view. Violence is not the way forward. Hurting others is never the answer."
Johnson said the actions shouldn't be tolerated.
"This attack is abhorrent and should be condemned by all," Johnson said.
AP, Reuters
Most Viewed in World
From our partners
Source: Read Full Article