Legal soap opera draws to conclusion in 'interests of daughter'
Two warring exes locked in a soap opera legal battle have agreed to lay down their arms in the interest of their child as the high-profile case drew to a close on Monday.
The defamation trial between battling exes Constantine Arvanitis and Selina Holder is now over after the parties read a joint statement in court, saying they wanted to prioritise the interest of their child above the acrimonious and drawn-out litigation.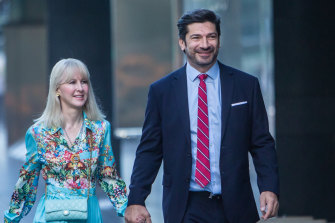 Constantine Arvanitis and fiancee Melanie Thornton outside court on Monday.Credit:Scott McNaughton
Arvanitis alleged that Holder falsely labelled him a sex addict, violent and a cheat. The expensive, rancorous and highly publicised litigation dominated headlines over tit-for-tat claims of lying, drug use and infidelity.
The settlement terms include both parties paying their own costs. For the first part of the trial Arvanitis retained the services of veteran silk Paul Hayes, QC. Arvanitis' bill for litigation he initiated is expected to be in the tens of thousands of dollars, if not more.
At the centre of the case were two documents which Arvanitis claimed defamed him. One was a letter that Holder allegedly co-wrote telling Arvanitis' new fiancee to leave him. The other was a separate legal document containing allegations sent by Holder to Arvanitis' future sister-in-law.
Two years later, Holder and the two other ex-girlfriends, a marketing executive and sales manager for a furniture company, hand-delivered a single-page typed letter to Arvanitis' new partner, Melanie Thornton.
Telling her "we are the sisterhood", according to court documents, the women cautioned Ms Thornton against dating Arvanitis because he was "dangerous".
In a joint statement read by Arvanitis's barrister Lana Collaris, the former couple agreed that even though information contained in a family court affidavit Holder filed in court was defamatory of Arvanitis, the fight should not continue.
"Mr Arvanitis has also alleged that the dissemination by Miss Holder to another person or persons of a copy of an affidavit filed by her in family law proceeding between the parties was defamatory of him," she said.
"Miss Holder acknowledges that the letter and family law affidavit contain, subject to any available defences, seriously defamatory statements of and concerning Mr Arvanitis, which he denies."
When the court closed after the brief hearing, Arvanitis embraced his fiancee Melanie Thornton, who had been by his side throughout the entire case. Holder did not appear in court.
A banking IT consultant, Arvanitis took legal action against Holder after three ex-girlfriends banded together to send a letter to his fiancee telling her to leave him.
On the way out of court, Arvanitis said little but agreed that he was happy the case had now come to a close.
Though the letter bore the name of Holder at the bottom, she denies having written it. The parents agreed that ending the litigation was in the best interests of their daughter.
Selina Holder and Constantine Arvanitis are fighting out a defamation battle in the courts.Credit:Joe Armao
"Both parties recognise that the best interest of their child are paramount. The parties have been encouraged to reach settlement over defamation proceedings at this time by mutually acting in the best interest of their daughter," Collaris said.
"The family law proceedings in which both parties have made allegations against the other have not yet been determined. And Miss Holder acknowledges that the allegations contained in her affidavit about Mr Arvanitis reflect her version of events, which are denied by Mr Arvanitis."
County Court judge Julie Clayton accepted the joint statement and thanked the parties "for your efforts in resolving the matter".
The case retreaded the most intimate aspects of the pair's romance. At different times Arvanitis was asked about drug use, to identify a picture of Holder's vagina she had sent to another man and was forced to recount an occasion she had allegedly attacked him with a stiletto shoe.
The Morning Edition newsletter is our guide to the day's most important and interesting stories, analysis and insights. Sign up here.
Most Viewed in National
From our partners
Source: Read Full Article