Albanese poised to pledge billions to Andrews' signature rail project
A federal Labor government would chip in at least $2.2 billion for Victorian Labor's Suburban Rail Loop, opening up a gulf with the Morrison government, which has argued that the project does not "stack up".
Labor leader Anthony Albanese is to make the investment pledge on Tuesday alongside Premier Daniel Andrews, ending speculation that the two party leaders would not be seen together during the election campaign.
Anthony Albanese and Daniel Andrews have not yet appeared together on the campaign trail.Credit:Twitter
Albanese has already appeared at events alongside every other state Labor premier.
Federal Labor plans to pledge an initial investment of more than $2 billion over five years towards the eastern section of the rail loop. The overall loop would be Australia's biggest infrastructure project.
The eastern section is planned to stretch from Cheltenham to Box Hill and expected to boost amenity and property prices in the ultra-marginal seat of Chisholm.
If it wins government, federal Labor may commit more funding for the eastern component, which will cost up to $34.5 billion and is scheduled to open by 2035.
Albanese, a former federal infrastructure minister, said the rail loop connecting the spokes of the train network would "change how Melburnians live" and cater for a city whose population is predicted to reach 9 million by the middle of the century – about the same size as London today.
"I won't be a prime minister that uses infrastructure to play political games; I will be a prime minister who invests in the projects that matter," he said in a statement ahead of Tuesday's announcement.
"Infrastructure like this shapes cities and shapes states."
Some transport experts have questioned if it was appropriate for the Andrews government to commit to the project – designed to connect Cheltenham to Werribee via Melbourne Airport by mid-century – without a business case weeks before the 2018 state election. The total cost could be nearly $100 billion, some experts claim.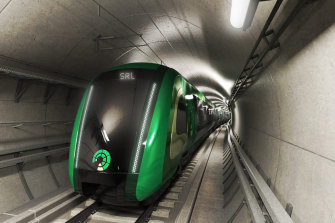 An artist's impression of a driverless train running on the proposed Suburban Rail Loop. 
Spurred partly by an Age investigation into the loop's secretive and unorthodox conception, the federal government rejected a Victorian Labor request to invest $11.5 billion over 10 years, and the state opposition has promised to audit the project.
Albanese's pitch to Victorians creates a point of difference with the Coalition, which was attacked by the Andrews government for allocating just 6 per cent of the federal budget's infrastructure funding to Victoria, which is home to 26 per cent of the nation's population.
Andrews said the rail loop would "change the way we move around the state".
"We welcome federal Labor's contribution to the Suburban Rail Loop, which will support thousands of Victorian jobs in the coming years," he said in a statement.
"It's a project Victorians voted for – and we're getting on with it."
Before the 2019 election, then-opposition leader Bill Shorten committed $10 billion over 15 years to the project.
Three of the six new station precincts in stage one of the project (Burwood, Box Hill and Glen Waverley) are in the Liberal seat of Chisholm, which Labor is increasingly confident of winning.
The government hopes the initial stage – involving 26 kilometres of tunnels with stations at Cheltenham, Clayton, Monash, Burwood, Glen Waverley and Box Hill – will create 800 direct jobs during early works, which are due to start this year, and support thousands of jobs when construction work intensifies.
The Morrison government is co-funding the $16 billion North East Link road, has committed to a $1.2 billion freight terminal in Beveridge (in the marginal seat of McEwen) and has $4 billion waiting to be spent on the East West Link, which the Andrews government does not want to build.
The Coalition is hopeful it can win the outer-northern Melbourne seat of McEwen from Labor and is also eyeing off Corangamite near Geelong. But Labor's research suggests it will probably retain McEwen, Corangamite and Dunkley, and win Chisholm. The party thinks it has a serious chance in Higgins.
The Coalition rolled out attack ads linking Albanese and Andrews last month.
It did so after internal Liberal Party research suggested that, in outer-suburban seats with a high proportion of self-employed and casual workers who struggled during Melbourne's long lockdowns, Andrews' net favourability (those who like him minus those who do not) was between negative 10 and negative 20.
Labor figures and pollsters have dismissed the notion that Andrews was a drag on federal Labor's support.
Cut through the noise of the federal election campaign with news, views and expert analysis from Jacqueline Maley. Sign up to our Australia Votes 2022 newsletter here.
Most Viewed in Politics
From our partners
Source: Read Full Article