'The Pioneer Woman' Star Ree Drummond Says This Noodle Dish Is a 'Favorite'
With all the recipes Food Network personality Ree Drummond presents regularly, her appreciative fanbase gobbles up The Pioneer Woman star's ingenious, quick, and simply delicious approach to home cooking.
It's not surprising, then, to learn that her favorite noodle dish is a tried-and-true, humble recipe that she admits to being "obsessed with."
Ree Drummond's favorite noodles are based on sesame noodles
The culinary personality opened up in her cookbook The Pioneer Woman Cooks Super Easy about a recipe she calls "Ree's Favorite Noodles." And judging by the amount of gushing she does over the dish, it's easy to see why.
"I'm obsessed with this noodle dish, and you will be, too!," Drummond wrote. "It's based on my well-loved (by me, at least!) sesame noodle recipe, which is a perfect side dish, main dish, or snack."
Her beloved noodle dish calls for 3 kinds of mushrooms
Packed with flavor, Drummond's recipe is also packed with mushrooms, as she notes: "This version brings in mushrooms, which soak up the flavorful sauce and give the noodles an added layer of texture and flavor that'll make you go Mmmmmm. Like, totally."
While her version on Food Network's site is a straight-up, simple spin on sesame noodles, her recipe in the cookbook includes cremini mushrooms, shiitake mushroom caps, and oyster mushrooms, all thinly sliced.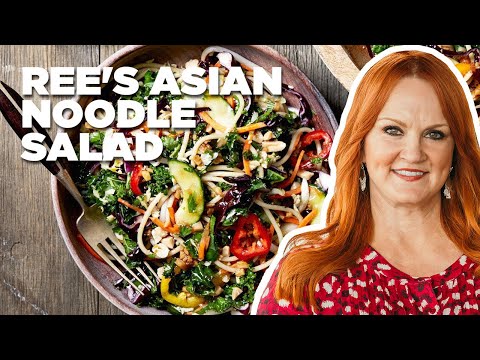 "The secret" to her sesame noodles," Drummond says in the Food Network video, link below, "is definitely in the sauce."
"I've made them for years," she said of the noodles. "And I love them more every time I make them."
The sauce comes together with soy sauce, vegetable oil, sesame oil ("It has that unmistakable toasty flavor"), rice vinegar, hot chile oil ("It gives it a nice heat"), sugar, minced garlic cloves, sliced green onions, and cooked thin spaghetti.
Whisk the sauce together and toss it with the hot, just-cooked noodles. Drummond adds that you can customize the dish as you like: "You can eat the noodles by themselves, or you can add grilled chicken or beef. It is so versatile." The green onions are sprinkled over the dish as a "finishing touch."
Find the complete recipe, video, and reviews on Food Network's site. Or check it out in Drummond's cookbook, 'The Pioneer Woman Cooks Super Easy.'
Reviewers shared how they customized Drummond's recipe
The chef's simple dish is simply delicious and practically instant. And when Drummond mentioned the recipe's versatility, she wasn't kidding, as reviewers on Food Network's site confirmed.
"Absolutely amazing. I made a stir fry and used this dressing over both rice noodles and the meat and veggie mixture. I used a variation of it for a ramen soup and a salad dressing. Excellent. Highly recommended!," one home cook wrote.
Another reviewer said, "Really good. I added crushed peanuts to it and it helped it a ton."
Other fans of the dish added, "Easy weeknight recipe that can be tossed with leftover cooked meat," and "I sautéed some shrimp with garlic and red pepper flakes to add in after I made the noodles and then sprinkled some sesame seeds on top at the end. Delicious and quick."
Source: Read Full Article