Hyper-realistic Taika Waititi portrait wins Archibald Packing Room Prize
A portrait of Taika Waititi by artist Claus Stangl is the winner of this year's Archibald Packing Room Prize.
The Art Gallery of NSW's head packer, Brett Cuthbertson, exercised his majority vote to select the hyper-realistic portrait of the New Zealand filmmaker from among 52 finalists unveiled this morning for the 2022 Archibald Prize for portraiture.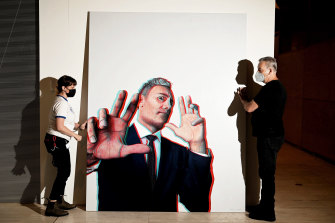 Portrait of director Taika Waikitiby Claus Stangl winner of the 2022 Archibald Prize.Credit:Nick Moir
This year saw 816 entries for the Archibald, Australia's oldest and arguably most popular art prize that turns 101.
Finalists include Anh Do's portrait of Midnight Oil frontman Peter Garrett, Katherine Hattam's collage of writer Helen Garner, and Fiona Lowry's delicate airbrush of architect Glenn Murcutt.
Also on the finalists' list for this year is 2020 Archibald Prize winner Vincent Namatjira, who paints himself in a plush red wing-back chair with a dingo by his side.
Paul Newton, responsible for the wildly popular 2001 portrait of broadcast characters Roy Slaven and H.G. Nelson, captures power couple Hugh Jackman and Deborra-Lee Furness in a casual pose. Sydney-based Newton flew to the couple's New York home earlier this year to create this painting, which marks his 15th time as a finalist.
Writer Benjamin Law's bare bum features in Jordan Richardson's Renaissance-inspired Venus, and portraits of journalists Brooke Boney and Laura Tingle have also been selected. The former is by Laura Jones and the latter is from eight-time finalist James Powditch.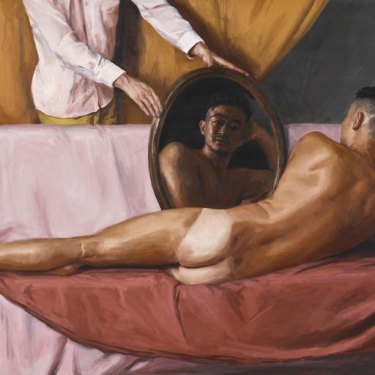 Archibald Prize 2022 finalist, Jordan Richardson's 'Venus', a painting of Benjamin Law.Credit:Art Gallery of NSW
Portraits of previous prize winners are heavily represented, including last year's Archibald winner Peter Wegner who was painted by fellow 2021 finalist Hong Fu, and 1999 winner Euan MacLeod who was painted by 2021 finalist Ann Cape.
Yoshio Honjo paints television presenter Yumi Stynes as an onna-musha, female samurai, using natural earth pigments on handmade washi paper. Six-time finalist Kim Leutwyler has captured Shane Jenek and alter ego Courtney Act in the same frame.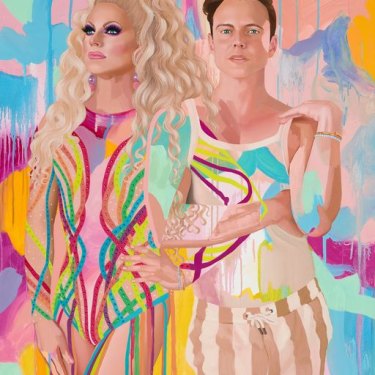 Archibald Prize 2022 finalist, Kim Leutwyler's 'Courtney and Shane'.Credit:Art Gallery of NSW
The Packing Room Prize, worth $1500, began in 1991 and has remained the larrikin child of the "real" Archibald whose winner gets $100,000.
Cuthbertson has awarded the annual Packing Room Prize since succeeding Steve Peters as head packer after the 2017 Archibald and has announced his retirement this year. Cuthbertson was 19 when he joined the gallery in 1981 as its first full-time art installer. His previous winners were rocker Jimmy Barnes (by Jamie Preisz in 2018), actor David Wenham (by Tessa MacKay in 2019), actor Meyne Wyatt (a self-portrait in 2020), and singer Kate Ceberano (by Kathrin Longhurst in 2021).
Forty-one years after Cuthbertson first joined the gallery, he says his body can't take it anymore. "I've got to have my hips done, I've got to have my knees done," he said. "The Archibald nearly killed me this year. I don't get off my feet for a couple of weeks. I don't take breaks."
This year's Archibald Prize winner will be announced Friday, May 13.
A cultural guide to going out and loving your city. Sign up to our Culture Fix newsletter here.
Most Viewed in Culture
From our partners
Source: Read Full Article