Guide dogs charity to investigate CEO's public pitch for Josh Frydenberg
Talking points
Guide Dogs Victoria chief Karen Hayes appeared in local campaign material promoting Josh Frydenberg as he fights to hold the seat of Kooyong.
When the organisation's board learned about the partisan promotions, it launched an investigation and asked the federal treasurer to stop distributing the flyers.
Australian charities are actively discouraged from providing political endorsements.
Guide Dogs Victoria will investigate why its chief executive appeared in Liberal Party election pamphlets endorsing Treasurer Josh Frydenberg in his inner-Melbourne seat of Kooyong.
As soon as it became aware of the flyer, the organisation's board asked Frydenberg to stop circulating it, aware the charities' commissioner had warned against endorsing political candidates and parties at the May 21 federal election.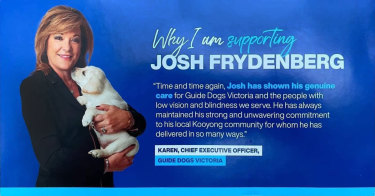 Guide Dogs Victoria chief executive Karen Hayes appered on Liberal Party pamphlets endorsing Josh Frydenberg. Credit:
The pamphlet featured Guide Dogs Victoria chief executive officer Karen Hayes, holding a puppy, with the headline "Why I am supporting Josh Frydenberg".
"Time and time again, Josh has shown his genuine care for Guide Dogs Victoria and the people with low vision and blindness we serve," the flyer quoted Hayes saying.
Hayes also featured in a now deleted video posted on Frydenberg's Facebook page endorsing the treasurer, who is under threat from "Voices of" candidate Dr Monique Ryan in Kooyong.
"We're doing a $30 million redevelopment of our campus here in Kew at the moment, and we would not have been in a position to have even started it without the support that Josh kicked off," she said in the video.
Guide Dogs Victoria chair Iain Edwards said the board had no prior knowledge of Hayes appearing in Frydenberg's authorised campaign material, and did not endorse it.
He said the board understood why some supporters of the charity and community members raised concern about the promotion.
"Guide Dogs Victoria is absolutely committed to its important work as a charitable apolitical organisation in line with the Australian Charities and Not-for-profits Commission (ACNC) regulation," Edwards said in a statement.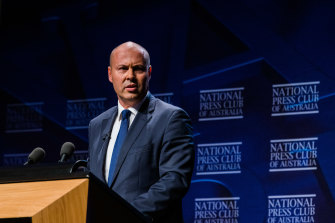 Treasurer Josh Frydenberg accused "fake independents" of confecting outrage over his campaign material. Credit:James Brickwood
"The board has launched an internal investigation and requested this material be immediately removed from circulation."
Guide Dogs Victoria received $3.2 million from the state and federal governments in 2021, according to its financial report.
The pamphlet featuring Hayes was made public a week after Cate Sayers, the founder of Down syndrome support charity Inclusion Foundation, appeared in similar promotions for Frydenberg.
Under Australian law, charities risk losing ACNC registration if one of their stated purposes is to "promote or oppose a political party or a candidate for political office".
ACNC commissioner Dr Gary Lyons last week reminded charities of that risk. However, the threshold is so high, only one charity has lost its registration in the past 10 years.
Lyons told The Age and Sydney Morning Herald organisations should remain apolitical.
"We think it brings the sector into disrepute if they start to dip into the political contest because you can't assume your donors are all voting one way, and that can trigger a reputational risk," Lyons said, speaking in general terms.
"You damage yourself by doing things like this."
Despite concerns raised about the charity endorsements, Frydenberg said Hayes and Sayers were "simply reflecting work" he had done with their organisations. He said the negative reaction was "confected outrage".
Independent for Kooyong Dr Monique Ryan at Camberwell Junction in Melbourne.Credit:Louis Trerise
Federal Liberal MPs have, in the past, accused registered charities of bias and abusing their position.
In a speech to the ACNC in 2019, Zed Seselja – the charities minister of the day – said "activist charities such as groups like Greenpeace Australia Pacific and the Wilderness Society … do spend a lot of time looking very much like political entities."
In November it was revealed NSW Liberal senator Andrew Bragg and Wentworth Liberal MP Dave Sharma wrote to regulators, including the ACNC, arguing a website that tracked parliamentarians' voting records was biased and should lose its charitable status.
As a charity, the site should not promote or oppose candidates for political office, they argued.
Krystian Seibert, Swinburne University charities expert, said organisations should be politically active but never provide endorsements.
"I don't think [Hayes' post] breaches charity law, but I certainly think, in general, charities need to be mindful of the law, and mindful of their donors, their beneficiaries and those they serve," Seibert said.
"Governments can change, and appearing to be partisan could impact your relationship if there is a change in government."
The Inclusion Foundation was contacted for comment.
Cut through the noise of the federal election campaign with news, views and expert analysis from Jacqueline Maley. Sign up to our Australia Votes 2022 newsletter here.
Most Viewed in Politics
From our partners
Source: Read Full Article