Russia says all urban areas of Mariupol cleared of Ukrainian forces
The Russian defence ministry on Saturday announced it had cleared the entire urban area of Mariupol of Ukrainian forces and said only a few fighters remained in the Azovstal steelworks, the scene of repeated clashes.
In an online post, the ministry said that as of April 16, Ukrainian forces in the besieged port city had lost more than 4,000 people, RIA added.
Russian forces have been trying for several weeks to take the port, which is on the Sea of Azov, a body of water to the northeast of the Black Sea.
"The entire urban area of ​​Mariupol has been completely cleared … remnants of the Ukrainian group are currently completely blockaded on the territory of the Azovstal metallurgical plant," the ministry said.
"Their only chance to save their lives is to voluntarily lay down their arms and surrender."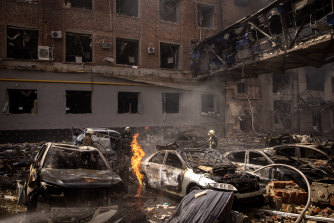 Firefighters work to extinguish a fire at a shopping centre and surrounding buildings after a Russian missile strike in Kharkiv, Ukraine. Credit:
There was no immediate reaction from Kyiv to the statement by the Russian ministry, which also said 1,464 Ukrainian servicemen had surrendered so far.
Moscow said the total number of what it called "irretrievable losses" suffered by Ukraine totalled 23,367 people but did not provide any evidence and did not say whether this included only those who had died or who had also been injured.
Meanwhile, billionaire Roman Abramovich has travelled to Kyiv in a bid to restart peace talks between Russia and Ukraine, which stalled after evidence emerged of Russian atrocities against civilians.
Abramovich met with Ukrainian negotiators to discuss ways of reviving the negotiations, according to people with knowledge of the matter.
The Russian billionaire, who has longtime ties to President Vladimir Putin, has been acting as an informal mediator since the war began in late February, when Ukrainian President Volodymyr Zelensky asked him to get involved.
In an interview with Ukrainian online media published on Saturday, Zelensky said the talks are at a "dead end because we will not trade our territory and our people." He said that if Russian forces follow through on a threat to destroy the remaining Ukrainian troops fighting in Mariupol, that may "put an end" to talks.
In Russia, Abramovich "represents the side that backs a diplomatic resolution and end to the war," he said. "Nobody can guarantee that it isn't a game."
A spokesperson for Abramovich declined to comment on whether the tycoon is in Kyiv, as did Ukrainian negotiator Mykhailo Podolyak. Kremlin spokesman Dmitry Peskov didn't immediately respond to a request for comment.
Reuters and Bloomberg
Most Viewed in World
From our partners
Source: Read Full Article