Lies About Princess Diana That Some People Still Believe
It's been more than two decades since Princess Diana died following a car crash in Paris but many people have remained fascinated by the late royal. The movie Spencer as well as Netflix's series The Crown have put Diana right back in the spotlight with royal fans wanting to know everything about the beloved princess. But over the years some misinformation has circulated, so now we're separating fact from fiction to dispel a few rumors about the Princess of Wales.
Princess Diana technically wasn't a princess
From the day she married Prince Charles in 1981, people all over the world knew her as Princess Diana but she technically wasn't a princess.
Reader's Digest noted that the reason Diana wasn't an actual "princess" is because the regal title before a first name is for blood relatives of the monarch like Princess Anne, Princess Eugenie, and Princess Charlotte.
A princess by marriage is styled with their husband's title so when she was Charles' wife Diana's formal title was "Her Royal Highness The Princess of Wales." However, a Princess of Wales is not a princess in her own right.
Diana was never shy
Diana was only 19 years old when she got involved with Prince Charles and soon the press dubbed the teen as "Shy Di." However, according to Queen Elizabeth II's former press secretary, Dickie Arbiter, Diana wasn't shy at all. So why was she referred to as such? Arbiter said it's because she kept her head down while talking to people since she was mindful of how tall she was.
"There was nothing shy about her," he told Vogue. "What she was conscious of was her height — 5 foot 10. She used to keep her head down when talking to people to not make them feel uncomfortable and to talk to them at their own level."
She was not shorter than Prince Charles
A famous photo of Charles and Diana together led many to believe that the Prince of Wales was taller than his first bride, but that wasn't the case. The prince and princess were actually the same height standing at 5 foot 10 inches.
Their photos were staged to make it look like the future king was a few inches taller and that was done a few different ways. For example in their engagement photo (below), Charles is standing on a step above his then-fiancée to create the illusion that she was shorter than him. And in other official portraits, Diana is either sitting down or leaning her head to the side.
The princess didn't always flee the paparazzi
There are a number of images burned in people's minds of Princess Diana trying to steer clear and get away from the lurking paparazzi whenever they would follow her around. And no one can forget that she was being chased by photogs on motorbikes just before the car crash that took her life.
But before that tragic night, there were some instances in which Diana wanted the press around. In a tactic that has been used by celebrities and other high-profile people for years, Diana knew what to do when she wanted to grab the headlines and made sure the paps showed up where she was to get a particular photo.
In the documentary Royalty Close Up: The Photography of Kent Gavin journalist Piers Morgan talked about how the princess used the press to her advantage to overshadow the Prince of Wales and Camilla. "I remember a classic case of her when Prince Charles had a coming-out party for his relationship with Camilla Parker Bowles, and Diana was in St. Tropez with Mohamed al-Fayed and others," Morgan recalled. "And we got a message — 'Will you be there tomorrow at 9 a.m. by this beach?' 'Yes, why?' 'Wait and see!'"
The former morning show host added, "The next day [the princess] came out and started cartwheeling across the beach."
Diana wasn't called the 'People's Princess' when she was alive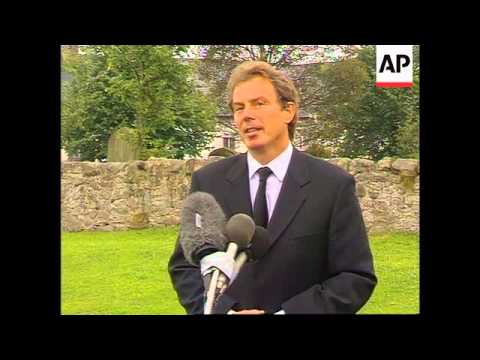 Princess Diana has often been referred to as "The People's Princess" but she was never called that when she was alive. That nickname was given to her by politician Tony Blair after her death in 1997.
The former Prime Minister of the United Kingdom spoke to reporters just hours after the news broke that the princess died from injuries she sustained following a car accident in Paris. Blair expressed his sadness and offered his condolences to Diana's family before calling her the name no one would ever forget when he said: "She was the 'People's Princess.' And that's how she will stay, how she will remain, in our hearts and in our memories, forever."
Source: Read Full Article