Free to a good home: Exquisite DIY doll's house to go to child in need
While many people were house-bound during the coronavirus pandemic, Macleod retiree Rolf Schwabe single-handedly built a house.
At age 85, he constructed and painted the three-storey, grand and colourful abode. He even built the furniture, ranging from a fridge to a baby's crib, beds, an oven and a grandfather clock.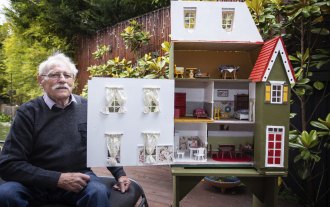 Rolf Schwabe is giving away the doll's house he made.Credit:Paul Jeffers
It was a precision job because it's a doll's house; just one metre high, with five rooms, a sloping tile roof and pretty windows.
But it won't be his to keep. Mr Schwabe will donate it to a family that is struggling to afford Christmas presents.
His four teenage grandchildren have outgrown this sort of toy.
But he remembers the surprise and happiness when he presented his granddaughter Caitlyn, now 16, with a different doll's house he made, on her fourth birthday, and reckons another child might love this house just as much.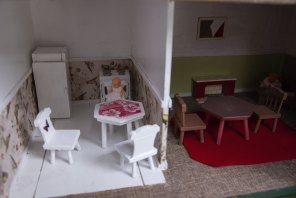 Kitchen and living room of the doll's house. Credit:Paul Jeffers
Making this house over six months earlier this year also brought joy to Mr Schwabe, a former toolmaker.
Lockdowns and travel restrictions meant long absences from his three adult sons — one of whom lives in New South Wales — and their families, including when one son was hospitalised with pneumonia.
For long periods, Mr Schwabe wasn't able to play golf. But when not able to leave the house, except to shop locally for essentials, one thing he could do was work on the doll's house in his garage.
"It got him out of my hair," said wife Gertie, who sewed little pieces, including the curtains and bed quilts, for the doll's house.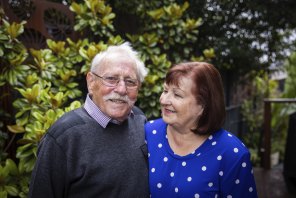 Rolf and Gertie Schwabe.Credit:Paul Jeffers
Mr Schwabe's daughter-in-law Leanne Schwabe loves the doll's house.
"I just love that it gave Rolf something to do that was creative, and brought him joy to make," she said.
"And I love the fact that it can be used by, and bring joy to, another family that might be struggling."
A miniature bench made by Rolf Schwabe.Credit:Paul Jeffers
Mr Schwabe relished technical challenges, such as using an electric jigsaw and glue to craft a tiny infant high chair from plywood. He replicated, in miniature, a porch swing he once owned, which actually swings.
He made a fireplace with little wooden sticks for logs, mounted tiny fish paintings on walls, and even built a toilet room.
"I love it," he said, of the project. "I really get involved with it. I'm always thinking of new things; how I can make it better. It's always a challenge."
He is already working on a new model — a two-storey petrol station and garage, with toy cars, which he will also give away.
He hopes the doll's house "will make some child happy".
"As long as it goes to someone who appreciates it and couldn't afford other Christmas presents," Mr Schwabe said.
"We never wanted to sell it and make any money. We want it to go to a good cause."
Enquiries about the doll's house can be made to [email protected]
Fascinating answers to perplexing questions delivered to your inbox every week. Sign up to get our new Explainer newsletter here.
Most Viewed in National
From our partners
Source: Read Full Article