Australia COVID LIVE: Victoria enjoys first weekend out of lockdown as cases continue to grow in NSW
For our free coronavirus pandemic coverage, learn more here.
Hospital admissions expected to decline even if COVID-19 cases rise
Experts say COVID-19 case numbers in the coming days will be crucial to understanding how the virus is spreading in reopened NSW, but high vaccination coverage should see hospital admissions continue to decline.
NSW recorded 333 new cases on Saturday, with all but one acquired in the community. Across the state, 469 people are in hospital, with 123 in intensive care. Two deaths were reported on Saturday.
Professor Catherine Bennett is the chair of epidemiology at Deakin University.Credit:Jason South
Chair of epidemiology at Deakin University, Catherine Bennett, told The Sun-Herald that nearly two weeks on from the end of lockdown the reproduction rate of the virus had risen to 1.3, but it would take another week until the new infection rate settles.
"By the middle of next month theoretically if it kept going at this 1.3 [reproduction rate] you could push up to the high hundreds again, but your hospitalisations would still be coming down," she said.
"It might only take a couple of weeks to get back up, and I'm not going to give specific numbers and I don't want to alarm people, but the way the reproductive number is at the moment at 1.3 that means there could be a reasonable climb in case numbers."
Read more here.
How Japan hit the sweet spot to crush the latest wave of COVID
It took an Olympics without spectators, four states of emergency, and the resignation of a prime minister, but after four months, Japan has crushed its sharpest coronavirus wave yet.
A fortnight after the Olympic flame went out in Tokyo on August 8, Japan recorded more than 25,000 cases. On Friday, the country added under 400 and Tokyo just 26.
Keisuke Yamamoto of Jeremiah Tokyo at his bar in Tokyo's Shinjuku district. Credit:Christopher Jue
The result is a remarkable turnaround for a city where residents and businesses had sometimes flaunted the government's restrictions. It's also noteworthy for a country where the top doctors feared its medical system was on the brink of collapse.
Read more here.
'We're just excited to see each other again': Melburnians embrace their newfound freedoms
For some it was their first night out ever.
Three-month-old Olivia Tiori spent Friday evening, Melbourne's first of relative freedom in more than 70 days, with mum Angela soaking in the atmosphere of her first proper taste of social life.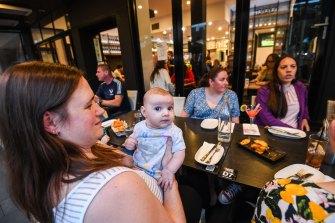 Brand new world: Angie Tiori out with her three-month-old daughter Olivia in Oakleigh's Eaton Mall.Credit:Joe Armao
Olivia, who was born at the beginning of lockdown six, seemed bedazzled by the sights, sounds and smells of Eaton Mall but took it all in her stride.
Click here to read the story.
Good morning
Good morning and thank you for joining me today. My name is Laura Chung and I will be taking you through the events of the morning.
Here's wha you missed yesterday:
Victoria recorded 1748 new local COVID-19 cases as Andrews flagged more freedoms
NSW recorded 332 new local COVID-19 cases and two deaths
Queensland recorded double-doughnut day, schools opened for jabs
'I refuse to be a vaccination policeman': Jab or no jab, Stefan will serve all. He's not alone
Anti-vaxxer death threats slammed as number of fully vaccinated in WA doubles
Vaccine stance of players must be respected, but so should Australian Open rules: Barty
'We've been in limbo': Singapore students at front of queue for Australia
Vaccine mandate challenge expands to more than 100 plaintiffs
Most Viewed in National
Source: Read Full Article