Why 'The Blacklist' Season 9 Could Parallel This Season 1 Tragedy
Many fans of The Blacklist are still processing the events in the season 8 finale. The episode "Konets" took viewers on a wild ride as Elizabeth Keen (Megan Boone) agreed to kill Raymond "Red" Reddington (James Spader), at his request. The deal would've helped Liz and daughter Agnes supposedly live in hiding. Or, if she chose, she could've taken over Reddington's criminal empire as the one who killed him when no one else could.
One character likely to grieve through season 9 is that of FBI Agent Donald Ressler (Diego Klattenhoff). Here's what could happen in the season to come.
'The Blacklist' Season 8 explored Ressler and Liz's relationship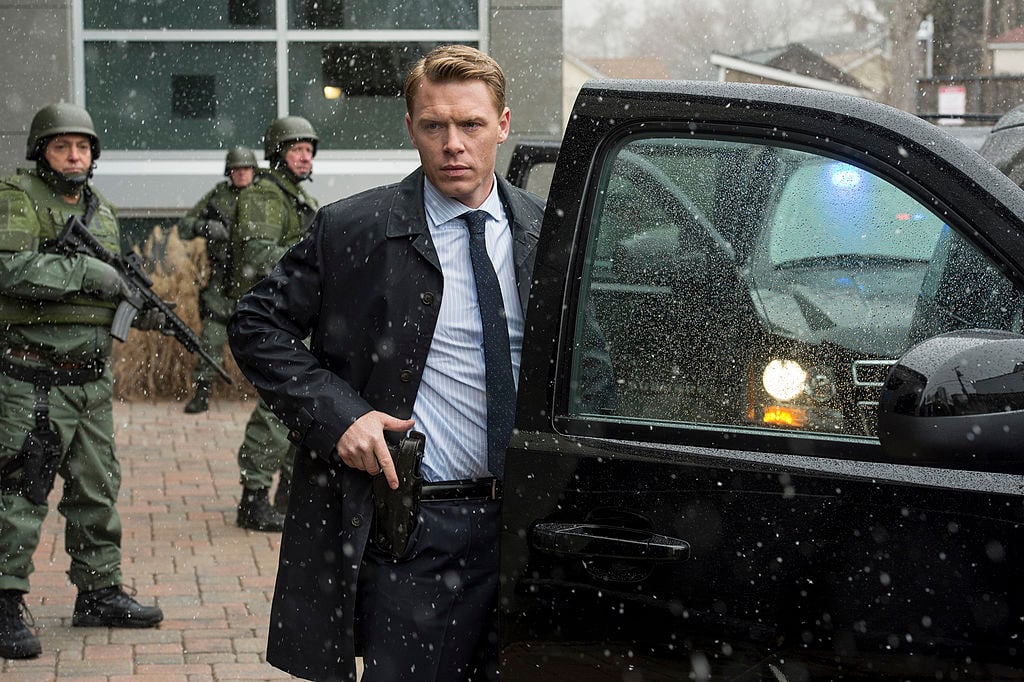 It may have been a long time coming, but season 7 showed a developing relationship between Ressler and Keen and fans were here for it. Season 8 took things a step further and many deemed the new couple "Keenler." It's a far cry from the way things began between the two.
In the pilot episode, Ressler wasn't a fan of the newbie profiler. When Reddington first turned himself in — then demanded he only deal with Keen — it was Ressler who didn't think she could handle it. It took a few seasons for their friendship to form. But, he was there through Tom Keen's (Ryan Eggold)n exploits, Reddington's continual drama, and now, for [Liz] Keen's death.
Some believe Ressler will have revenge on the mind when season 9 returns. Since he and Liz only just got things going, he's likely to blame Reddington for the loss. It's a story all too familiar for the agent.
Will Donald Ressler's season 9 story mirror season 1?
Season 8 ended with Ressler escaping from the hospital (where he barely woke up and "recovered), to hold Keen as she bled out on the sidewalk. If you'll remember, she was shot by Townsend's main man, VanDyke, moments before she was to kill Reddington.
Ressler arrived just after Dembe (Hisham Tawfiq) pulled Reddington away. Many are frustrated that the agent never had the happy ending he deserves. His former fiancée, Audrey Bidwell (Emily Tremaine) was introduced and stayed for three episodes. Her last appearence came in the 2014 episode "Mako Tanida" where she was shot in front of her husband-to-be.
The effects of that loss followed Ressler for many episodes after. In his grief, he turned to pain medication and it nearly consumed him. With the loss of Liz — his seemingly second love in eight years — will he return to numbing the pain?
Why 'The Blacklist' Season 9 needs a new direction for Ressler
The season 8 finale marked the end of a Blacklist era. Not only did star Boone leave, but so did the series creator Jon Bokenkamp. The two began with the pilot, like Klattenhoff, and left when a majority of the story appeared to close. The open-ended finale divided fans, but leaves room for a completely new direction for the series.
In terms of Ressler, losing Keen will, no doubt, affect him. While a story of revenge might be worthy, there's room for something new. Maybe he'll find love in the most unexpected place — such as a grief support group. If the task force team disbands, we could get a closer look at how he lives beyond his work day. We don't yet know the details of what the season 9 storyline will look like in the post-Bokenkamp era.
However things play out, give Ressler a break. He's (and all of us have) been through a lot.
The Blacklist returns Oct. to NBC.
Source: Read Full Article