First Afghans and Australians evacuated from Kabul land in Perth
About 100 Australian citizens and Afghan visa holders landed in Perth in the early hours of Friday morning on board the first evacuation flight out of Kabul.
West Australian authorities dressed in full personal protective equipment greeted the evacuees at Perth Airport and escorted them onto buses headed for the Hyatt Regency Perth hotel.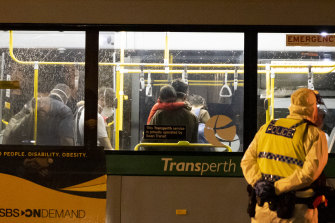 People arriving from Afghanistan are transported on a bus arriving at the Hyatt Hotel in Perth.Credit:Getty Images
Authorities cleared several floors of the inner-city hotel to accommodate the arrivals, who will need to spend two weeks in quarantine before bring released into the community.
Among the evacuees were Australian customs and immigration personnel, consular and foreign service officers, and Afghan interpreters and contractors who assisted Australian Defence Force troops.
A Royal Australian Air Force flight collected 26 people on Wednesday morning, kick-starting Australia's rescue mission. Another 76 Australian and Afghan nationals were evacuated to the Al Minhad Air Base in the United Arab Emirates by a British aircraft later that evening, where some received medical treatment.
Chaotic scenes unfolded at Hamid Karzai International Airport as the Taliban tried to control large crowds of desperate Afghans, including women and children, trying to flee the country. Since the insurgents took over the capital on Sunday, 12 people have been killed in or around the airport as a result of gunshot wounds and stampedes.
It is expected more Afghan nationals with Australian visas will be able to board American and British military flights over the coming days, as Australia tries to secure landing spots for RAAF aircraft.
To date, Prime Minister Scott Morrison has committed to resettling 3000 Afghans on humanitarian visas in Australia. Refugee groups and human rights organisations, however, claim the move doesn't go far enough to protect women, children and minorities, who have now been left at the mercy of the Taliban.
They want the intake to be increased to 20,000 refugees to match the commitments of countries like Britain and Canada.
On Thursday, Mr Morrison thanked the WA government for providing quarantine facilities above the existing cap and announced a further three additional aircraft would be involved in rescue operations.
"The weather is closing in it, which will present challenges over the next few days, but equally the situation can always turn, and so we are moving as quickly as we can," he said.
Mr Morrison said people were receiving medical treatment in Dubai, but there was "quite a bit of trauma" for those who had left dangerous circumstances in Kabul.
WA Premier Mark McGowan said state authorities had been working with the Commonwealth since Sunday to arrange the evacuation, which was managed by WA Police, Australian Border Force and the Department of Health.
"Police and Health and the Department of Premier and Cabinet have been working around the clock to make sure this can be put in place," he said during question time on Thursday.
"We will ensure, and I've received every guarantee, that every COVID-19 safety protocol will be adhered to from the airport to quarantine and beyond."
with Jennifer Duke and Anthony Galloway
Most Viewed in National
From our partners
Source: Read Full Article