The Many Blackpink Break Up Rumors Explained
Even if you are only a little bit familiar with the world of K-Pop, we are guessing there are at least two bands you already know: BTS and Blackpink. BTS is the seven-member strong boy band, taking K-Pop mainstream. Their female counterparts, Blackpink, are just as impressive. Blackpink — comprised of Rosé, Jisoo, Lisa, and Jenna — are already huge stars in their native South Korea, but they are well on their way to being international superstars, too.
Case in point: Blackpink has performed on American late-night shows, been the subject of a 2021 Netflix documentary, and even played Coachella. Just when it looked like things could not get any better for Blackpink and all their devoted fans (aka "blinks"), however, rumors began to circulate that the band was breaking up. The rumors came as a surprise, especially because Blackpink had recently released a song with Selena Gomez ("Ice Cream"), seemingly fully transitioning into American superstars.
So, what's the truth? Read on to find out.
Blackpink is growing up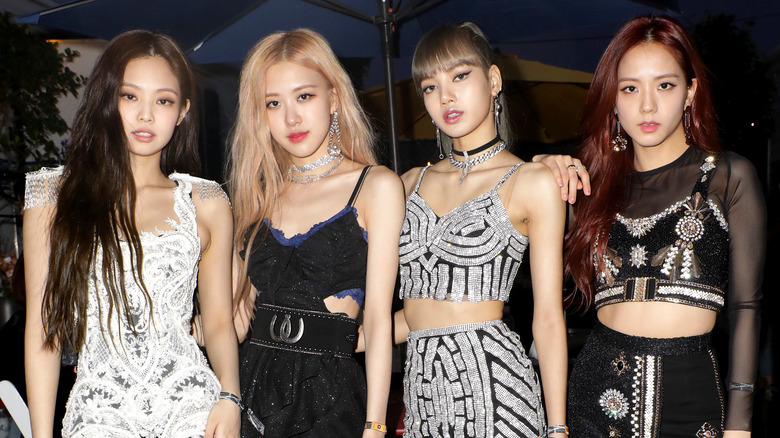 While 2020 was not ideal for most, it was actually a pretty good year for the ladies of Blackpink. They released their first studio album, "Album," dropped the previously mentioned "Ice Cream" with Selena Gomez and dropped two other singles, "How You Like That" and "Lovesick Girls." That's why fans were surprised when speculation that the group might split began to swirl. So what gives?
The reason for the rumors actually comes from Jisoo, Lisa, Rosé, and Jennie's career potential. As their fame has grown, so have their opportunities for pursuing their own interests. Jennie released a single, "Solo," in 2018, whereas news that Rosé and Lisa were also working on their own independent music began to spread in 2020, per South China Morning Post. Rosé went on to release her first solo project, "On the Ground" and "Gone" in 2021. Fan's were understandably concerned that this meant the end of Blackpink as we know it was on the horizon.
YG — Blackpink's record label — was quick to dispel everyone's concerns. "Rosé and Lisa have already wrapped up their recordings, whereas Jisoo is enthusiastically working on her music," the statement read, per the outlet. "All members agreed that [the] Blackpink comeback and its release of the first full-length album should come first. Thus, the solo songs will be gradually out after September."
Translation? It's good news! Not only will we be getting more solo music from these insanely talented ladies, it also looks like they are still just as dedicated to the band as their fans are.
Source: Read Full Article