The Transformation Of Carmen Electra From Childhood To 49 Years Old
Carmen Electra became one of the biggest sex symbols of the 1990s, but she has always been so much more than a pretty face. Throughout her long entertainment career, she has found success as a model, actor, television host, singer, dancer, and even an innovator — only she could turn the art of the striptease into a workout video.
You never know where you will spot Electra next. She played herself on an episode of "Jane the Virgin," and she danced in Lil' Kim's "No Matter What They Say" music video. She won an MTV Movie & TV Award in 2004 for Best Kiss after appearing in the movie "Starsky & Hutch," and presenter Paris Hilton helped her celebrate onstage with another smooch. She even appeared in ESPN's 2020 Michael Jordan docuseries "The Last Dance." According to TMZ, searches for Electra's name on Pornhub skyrocketed from fewer than 15,000 queries the day her episode aired to over half a million two days afterward.
Electra has survived tough times and a tumultuous love life, and she clearly adores the fans who continue to support her even though her career is not quite what it used to be. She has a following of more than one million admirers on Instagram, and she often treats them to throwback photos and videos from her heyday. But how did she become an enduring icon of the decade of Discmans and Doc Martens? Here's a look at Electra's transformation throughout the years.
Carmen Electra knew she was destined for fame from a young age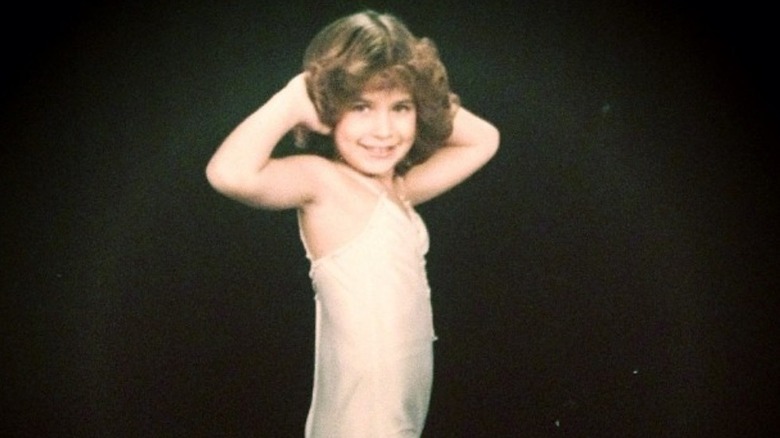 Carmen Electra was born Tara Leigh Patrick on April 20, 1972, in Sharonville, Ohio. Her father was a guitarist who performed with Bootsy Collins and her mother was a backup singer for the legendary funk musician (via HuffPost Canada). Electra was a toddler when she decided that she wanted to follow in her parents' footsteps in some way. "I always wanted to be a star," she told Smoke Magazine in 1997. "When I was three years old I sort of decided that this is what I wanted to do."
Electra recalled taking ballet as a kid and dancing when her father's band played in the basement. Unfortunately, her parents could not always rely on music to make ends meet. Her dad worked in construction, and her mother had to take on extra jobs so the family could afford Electra's dance classes (via LaPalme Magazine). At age 9, she began attending the School for Creative and Performing Arts in Cincinnati. When she played Tiger Lily in the school's production of "Peter Pan," 98 Degrees singer Nick Lachey played a lost boy.
Electra graduated from high school in 1990 and got a job at King's Island. "It was an amusement park, and I danced there in a magic show. It was a cheesy magic show," she said. Not content with that gig, Electra saved money to move to Los Angeles at the age of 18.
Prince bestowed Carmen Electra with her memorable stage name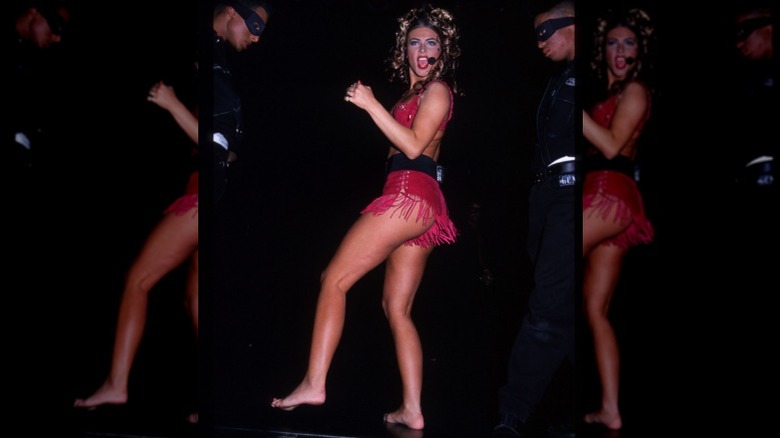 One of Carmen Electra's first jobs in L.A. was dancing on the show "Soul Train." However, she did not find immediate success in Hollywood. "I was 18 and broke … trying to make it," she said on "The Early Show," per CBS News. Her luck changed, though, when Prince protégé Robin Power spotted her dancing at a nightclub (via LaPalme). She told Electra that she "had the look she wanted" for a girl group that she and Prince were putting together.
That night, Electra found herself being transported to the "Purple Rain" singer's house in a blue BMW. "He said, 'I want you to sing something,' and got on the piano and played 'Do-Re-Me,'" she told HuffPost. Luckily, Electra had performed in more than one dinner theatre production of "The Sound of Music," so she knew the song.
She never did get an invite to join Powers' band, but one day Prince called her with a different offer: He was interested in signing her to his record label as a solo artist. "He wrote me a song called, 'Carmen on Top,'" she recalled. "I loved it, but I reminded him that my name was Tara. He told me, 'You look like a Carmen, so, to me, you're Carmen.'" Her new name was also the title of her 1993 debut album, which included the single "Go Go Dancer." She also got to showcase her dancing skills in the song's music video.
Carmen Electra stripped down and found a new calling on TV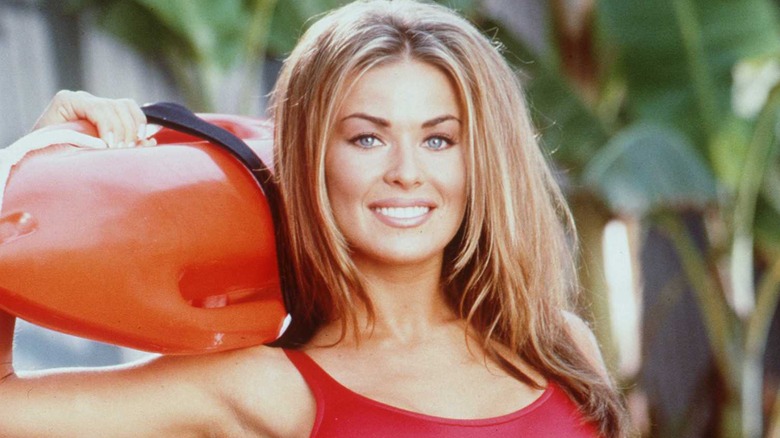 Carmen Electra lived with Prince at Paisley Park in Minnesota while she worked on her music. "It looked like you were in heaven and a magical unicorn was going to come running around the corner," she told LaPalme of what life at the estate was like. She toured with the singer and enjoyed a brief romance with him, but eventually Electra decided that she wanted to head back to Los Angeles.
However, she soon found herself homeless after a boyfriend absconded with the $5,000 that she had to her name. Prince got Electra a gig dancing at his Glam Slam LA club, per The New York Times, and she started to get back on her feet. In 1996, she scored her first Playboy cover. "From the time I was a little girl I would sneak into my parents' bedroom and look through Playboy magazines. I always thought the sexy women in the magazine were beautiful," she told The Guardian. On The "Knockin' Doorz Down" podcast, Electra credited her racy photoshoot for helping her get cast on "Baywatch" and the MTV dating show "Singled Out." She considers this her real breakthrough moment in the entertainment business. "I would have to say what really helped me start my career on a different level would have been when I started working for MTV, and started shooting 'Baywatch' at the same time," she told Untitled Magazine in 2013.
What attracted Carmen Electra to ex-husband Dennis Rodman?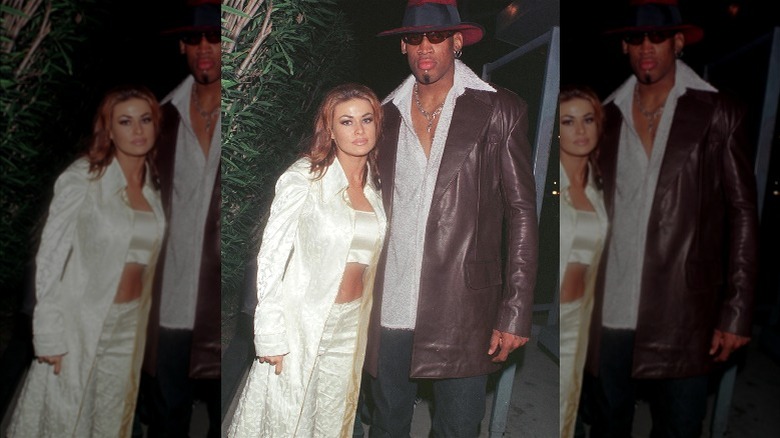 In 1998, Carmen Electra became a tabloid darling when she began dating NBA star Dennis Rodman. The flamboyant Chicago Bulls player was known for his flashy look and wild lifestyle, but Electra saw something more in him. "He was fun. I started drinking. People couldn't understand why I loved him, because he had a reputation for being a bad boy. What I saw in the beginning was this sort of gentle giant," she said on the Oprah Winfrey series "Where Are They Now?" However, a terrible tragedy also played a role in drawing Electra to Rodman.
Not long before she met him, her mother had died from a brain tumor. On the series "Hollywood Medium with Tyler Henry," she revealed that she felt guilty that she hadn't been around more during her mom's two-year battle with the illness (via the Daily Mail). "I just went into self-destruction," she said, adding that she blocked out the loss by making her life "chaos."
During an interview with The Los Angeles Times, Electra recalled how she and Rodman "had sex all over the damn place" inside the Bulls' training facility. The couple's whirlwind romance included a quickie wedding in Las Vegas, but their marriage was over less than one year later. Electra was warned that the relationship could hurt her career, but she parodied herself in the 2000 comedy "Scary Movie" one year after she and Rodman were both arrested and charged with misdemeanor battery.
Carmen Electra becomes a beauty mogul and eligible bachelorette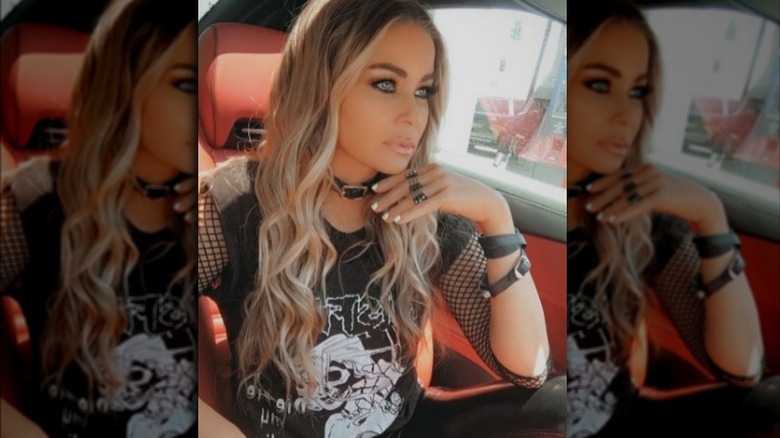 "Scary Movie" ended up being a smash hit, and Carmen Electra went on to star in a series of similar films that spoofed popular movies. The early aughts saw her performing with The Pussycat Dolls back when they were still a burlesque troupe, and she was with them in 2004 when Britney Spears performed with the group for her brother's birthday party.
Electra dipped her toes into the world of reality TV in 2003 when she and her second husband, rocker Dave Navarro, invited cameras into their home for the MTV series "Til Death Do Us Part: Carmen + Dave." The couple divorced in 2006, but remained on such good terms that Electra sent Navarro a box of beauty products after she launched her GOGO skincare system in 2020. She told NewBeauty that the brand's name is partly inspired by her song "Go Go Dancer."
Electra's search for love continued in 2021 when she flipped the script. The former dating show host signed on to appear on the July 19 episode of ABC's "The Celebrity Dating Game," where three eligible bachelors vied for her affection without knowing who she was. Unlike some celebrities, Electra embraces her past. She told talk show host Wendy Williams that she's open to appearing in a "Baywatch" reboot, and the "Werq" singer told Fox News that she's proud of her sex symbol status. "I feel super honored and I love it."
Source: Read Full Article