A Complete Timeline Of Khloe Kardashian And Tristan Thompson's Relationship
It's safe to say Khloé Kardashian's relationship with Tristan Thompson has been a bit of a rollercoaster. The "Keeping Up with the Kardashians" star sadly hasn't exactly had the easiest time in the romance department, but it seemed like she finally found The One following her turbulent marriage to Lamar Odom, which lasted from 2009 until they finalized their divorce in 2016.
Much of Khloé's ups and downs with Thompson were documented for the "KUWTK" cameras — and they have no doubt provided plenty of content for reality TV fans over the years. The on-again, off-again couple has gotten very candid about some of their most personal and undoubtedly painful moments on the show, as viewers have lived through pretty much every high and low the two have experienced since they first started dating in 2016.
From babies to fertility struggles to all those infamous cheating rumors, read on for a complete timeline of Khloé Kardashian and Tristan Thompson's relationship.
Khloe Kardashian and Tristan Thompson's up and down romance first began in 2016
Okay, let's go back to where it all began. It's 2016, "Keeping Up with the Kardashians" has been on the air for nine years, and Khloé Kardashian has been chatting it up with famous faces on her own E! chat show spinoff, "Kocktails with Khloé." Oh, and she just found love.
The gossip columns went into overdrive in September 2016 when it seemed Khloé had finally properly moved on from her ill-fated relationship with basketball star Lamar Odom. Khloé and power forward Tristan Thompson were seen leaving a club in California together before then being spotted hanging out around Beverly Hills the following week, according to TMZ.
Things moved pretty quickly for the pair, as later that same month, the Daily Mail reported they were spotted together again on a vacation to Mexico. A source dished on where things stood to E! News in October 2016, claiming they "are doing really well" and had decided to be "exclusive." The tipster also revealed there was "a lot of chemistry between the two of them and they are happy together."
E! News' insider also shared Khloé had met a few of Thompson's friends "and they all hang out sometimes. Khloé hasn't had this much fun with someone in a while." Khlo-mance was in the air.
Khloé Kardashian and Tristan Thompson encountered a bump in the road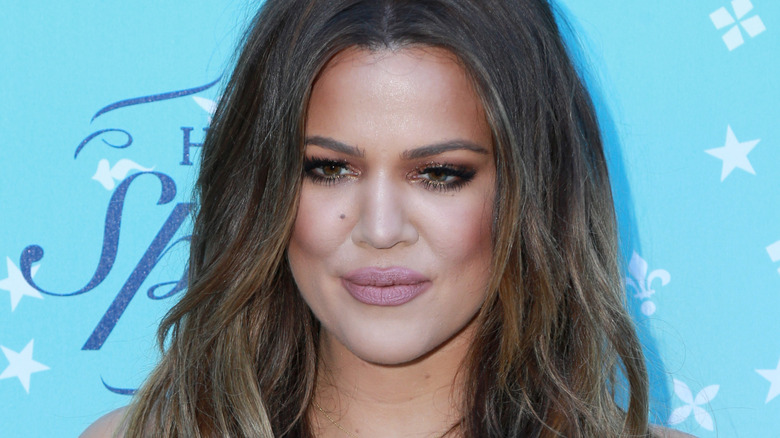 Though it seemed like all was well between Khloé Kardashian and Tristan Thompson at the top of their courtship, it was not long before things got a bit complicated for the duo. Another woman's name was brought into their relationship for the first time in October 2016 when news broke that Thompson was expecting a baby with former girlfriend Jordan Craig.
While that could be a dealbreaker for some new couples, that was not the case for these two. A source told Us Weekly that Thompson had told Khloé everything about the baby and revealed he was "happy about it." And as for the "Keeping Up with the Kardashians" star? Well, she decided to stand by her new man. "Khloé's having fun with him right now and just doesn't want any drama," the insider shared.
Hollywood Life also reported that they decided to stick together amid the baby bombshell, with a source telling the outlet that Khloé was "crazy about Tristan" and was "having fun and living in the moment and trying not to take life too seriously." 
Tristan Thompson makes it official with a ring as Cleveland calls Khloe Kardashian's name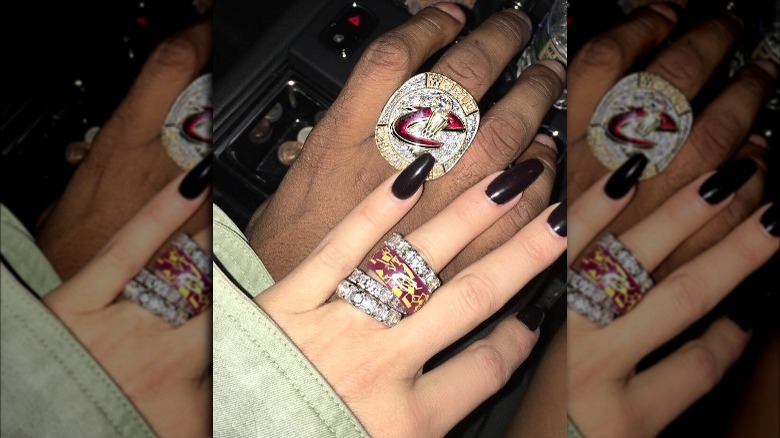 The same month the world found out Jordan Craig was expecting, Tristan Thompson put a ring on it… well, kind of. In October 2016, Khloé Kardashian made it very clear that she and the athlete were very much an item when she started posting more of her man on social media, including one pretty telling post involving an important piece of jewelry.
No, it wasn't an engagement ring, but Khloé did wear her love for her boyfriend on that special finger in an Instagram snap. The image showed her hand placed on top of Thompson's while he sported his championship ring for the Cleveland Cavaliers. Khloé's left hand ring finger was equally stacked with bling as she nestled a smaller Cavaliers ring in between three diamond encrusted bands. She captioned the upload with a red heart emoji.
A month later, Khloé dished on their relationship during an appearance on "Jimmy Kimmel Live" where she officially confirmed that she'd been splitting her time between California and Cleveland, which is where Thompson lived. And with that, the two were living together part time.
Tristan Thompson was so serious about Khloe Kardashian he skipped out on a big event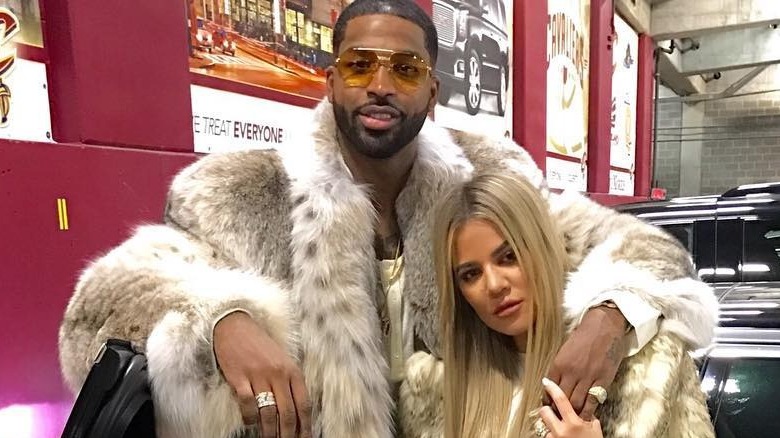 Fast-forward to February 2017 and it seemed like things were trucking right along for Khloé Kardashian and Tristan Thompson. Like, really trucking along. As People noted at the time, the two were so wrapped up with one another that Thompson opted out of the big opportunity to attend the NBA All-Star Weekend to spend some time in Jamaica with Khloé.
That same month, Khloé publicly gushed about her big plans as she geared up to spend her very first Valentine's Day with the athlete, which she confirmed would take place in Cleveland. "He actually has a game on Valentine's Day, so I will be with him after the game. I'll probably cook dinner, have food waiting for him when he comes… Maybe look a little sexy," Khloé teased during an appearance on "The Ellen DeGeneres Show."
Khloe Kardashian and Tristan Thompson expanded their family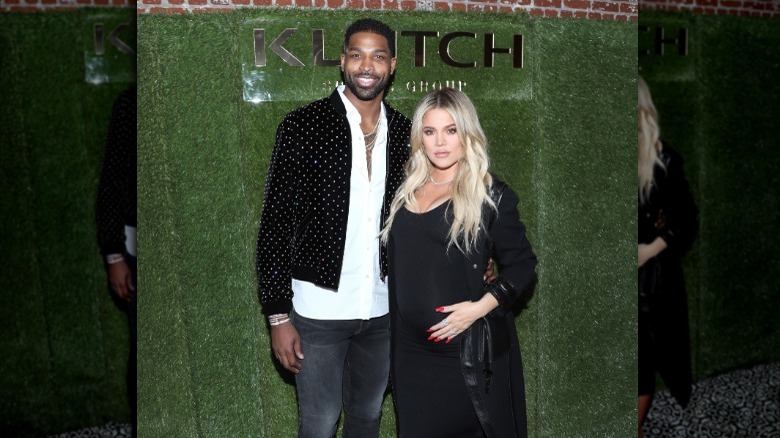 First comes love, then comes baby. After hearing about Khloé Kardashian's Valentine's Day plans with Tristan Thompson, it's probably not all that surprising to hear that the two did not waste too much time before becoming parents.
In September 2017, E! News reported that Khloé and Thompson were expecting their first child together. However, the "Keeping Up with the Kardashians" star did not address the exciting news for a few months. Rather, she waited until December of that year before she shared on Instagram that she was indeed pregnant. 
The black-and-white shot showed Khloé's bare bump with Thompson's hands wrapped around it, while she placed her hands on his. She accompanied it with a lengthy caption, in which she called motherhood her "greatest dream realized" and expressed gratitude. "Tristan, thank you for loving me the way that you do!" she wrote. "Thank you for treating me like a Queen!"
Khloé touched on why they waited so long to officially confirm the news, revealing that she and Thompson "wanted to enjoy this between our family and close friends as long as we could privately." She then signed off the excited message, "I am so thankful, excited, nervous, eager, overjoyed and scared all in one! But it's the best bundle of feelings I've ever felt in my life!" 
Khloe Kardashian found out she was expecting a baby girl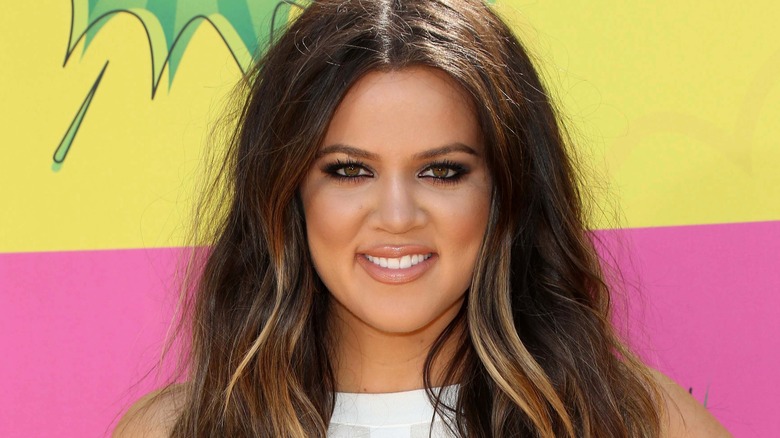 Three months after she confirmed she was with child, fans got to see Khloé Kardashian's pregnancy play out on her other baby, "Keeping Up with the Kardashians." On the Season 15 finale episode (via E! News), which aired in March 2018, Khloé — and the viewers at home — learned she would be having a little girl.
In a very sweet moment, youngest sister Kylie Jenner — who was secretly pregnant with her own daughter, Stormi, when the episode was filmed — called Khloé with the news. Khloé happened to be out of town with sisters Kourtney and Kim Kardashian at the time, and Kylie obtained the results on her behalf. A visibly emotional Khloé said that she believed she was going to have a boy, and Kim shared that she also cried when she learned the sex of her firstborn. "I don't feel like I'm having a girl at all," the Good American founder replied. "I'm like in a state of shock." 
In a later scene, Khloé chatted with Kris Jenner about the baby's sex. "I know Tristan will be in love and I'll be in love and she'll be so cute and whatever," the mom-to-be said. She was not wrong.
Tristan Thompson got hit with serious cheating allegations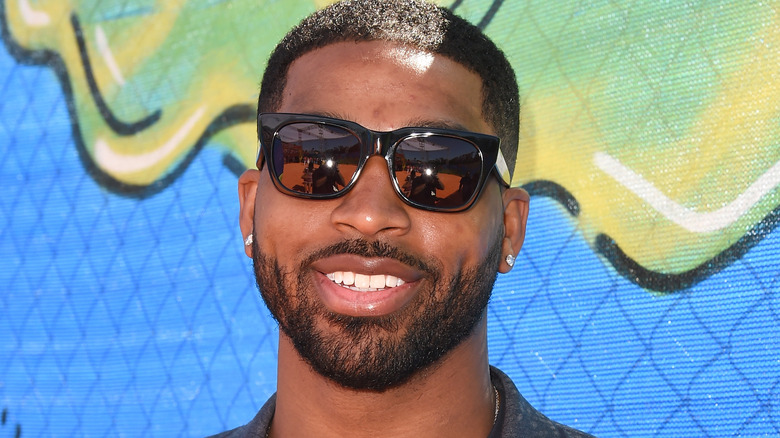 Unfortunately, the sweet moments of baby bliss didn't last too long after the episode aired. In April 2018 — the same month Khloé Kardashian gave birth – Tristan Thompson faced his first round of cheating allegations.
Thompson was accused of being unfaithful to his pregnant girlfriend when Daily Mail published a video on April 10, 2018, that appeared to show him kissing a mystery woman. The Shade Room also shared footage of Thompson apparently heading into a hotel with presumably the same woman. Around the same time, TMZ released a vid taken in October 2017 (when Khloé was around three months pregnant) that reportedly showed Thompson in a club with three women, one of whom he appeared to kiss.
A source then claimed to People that the star had "been consistently cheating on Khloé" during their relationship and was "a serial cheater." As for how Khloé felt in the immediate aftermath, they added, "First Lamar [Odom] cheated on her and now [Thompson]. She's been through so much." They noted that the members of her famous family were "heartbroken" for her and "didn't realize how deceptive [Thompson] could really be."
A tipster told ET that Khloé was "completely devastated" by the scandal and was leaning heavily on her mom, Kris Jenner, who flew out to Cleveland to be by her side.
Khloe Kardashian and Tristan Thompson became true parents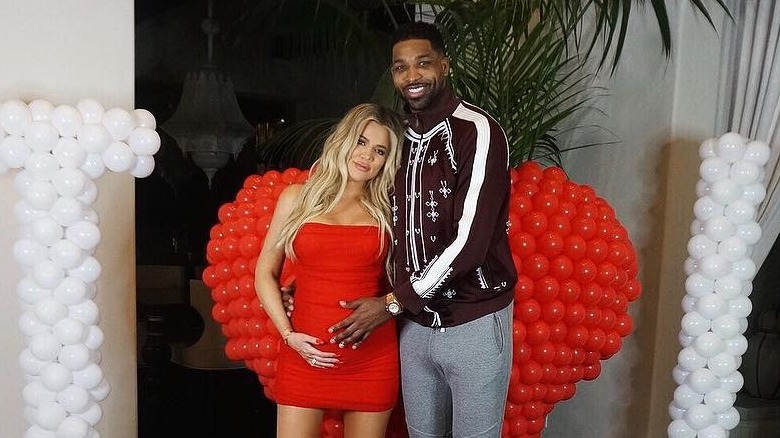 Amid the cheating firestorm was some great news: Khloé Kardashian gave birth to True Thompson on April 12, 2018. A source confirmed the happy news to ET, noting Khloé gave birth in a hospital near Cleveland. The star was joined in the delivery room by her sisters, Kim Kardashian and Kourtney Kardashian, as well as their mom, Kris Jenner, and Khloé's best friend, Malika Haqq. Despite the drama, Tristan Thompson was also present for the birth.
True's birth all played out on a November 2018 episode of "Keeping Up with the Kardashians" where the tension between Tristan and Khloé's family was easy to see, though Kim shared how she toned things down and kept things cordial to keep her sister comfortable (via E! News). Kim said "the vibe in the room is calm" during a piece to camera, noting, "As much as I want to go off, I just don't think it's the time. So I'm going to keep it cute, I don't have to have a lot of interaction, I just have to be there for her." That's one supportive sister.
Khloe Kardashian gave Tristan Thompson another chance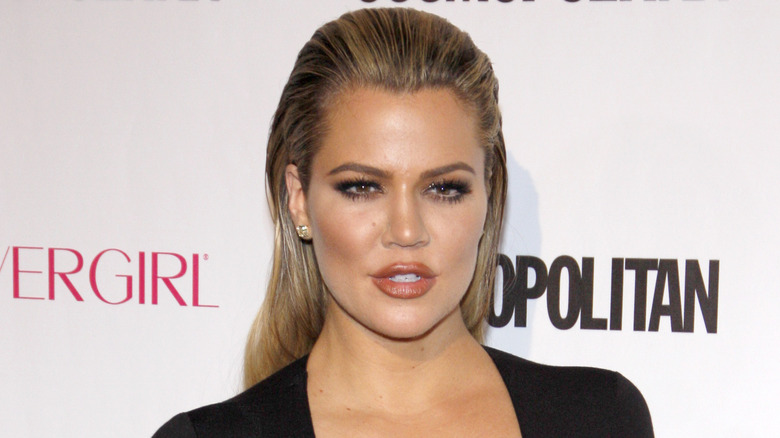 It seemed like things were pretty rocky for a while between Khloé Kardashian and Tristan Thompson immediately following the birth of their daughter, but the couple appeared to have moved past the cheating scandal. In May 2018, a source told E! News that "Khloé has given [Thompson] another chance at their relationship, and is trying to put the pieces back together for the sake of True." Khloé herself addressed things the following month.
The star clapped back at a fan on Twitter in June 2018 after they sent her a message — which is no longer available — to let her know they were "disappointed" that she got back together with Thompson in the wake of his very public infidelity (via E! News). Khloé replied, "Not exactly Queen Persia, you have no knowledge of what goes on in our household or the enormous rebuilding this takes to even coexist." 
She added that she was "proud of [her own] strength" for moving past the difficulties and continued, "I appreciate your opinion and I hope you hold that same opinion to everyone else who has stayed in situations."
Things came crashing down again following the Jordyn Woods and Tristan Thompson scandal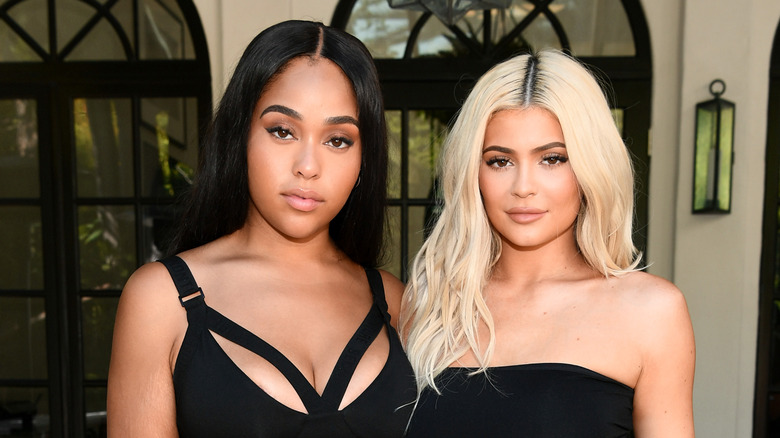 Well, that sort of happy reunion didn't last too long. February 2019 brought one of the biggest Kardashian scandals to our door when Tristan Thompson was accused of cheating on Khloé Kardashian again, this time with Kylie Jenner's best friend, Jordyn Woods. In the drama heard around the world, TMZ alleged that Khloé had officially called it quits with her man after he kissed Woods at a party. Hollywood Unlocked even claimed the two had supposedly been "involved" for a month.
Woods went on to tell her side of the story to Jada Pinkett Smith during a very candid interview on her "Red Table Talk" series in early March 2019. "On the way out, he did kiss me. It was a kiss on the lips, but no tongue kiss, no making out, nothing," Woods said. "I don't think that he's wrong either because I allowed myself to be in that position, and when alcohol's involved, people make dumb moves or people get caught up in the moment."
Woods was cut from the Kardashians' inner circle following the incident, while Khloé's relationship with Thompson went from being romantic to platonic co-parents.
Khloe Kardashian and Tristan Thompson kept things cordial for the sake of True
For quite a while, there wasn't a whole lot to report on Khloé Kardashian and Tristan Thompson. Following the Jordyn Woods drama, the two kept in close contact to co-parent their daughter, True Thompson, and were spotted together across social media as they stayed cordial to create the best environment they could for their little girl.
Speaking about co-parenting with her ex on "The Ellen DeGeneres Show" in October 2020, Khloé made it clear that the situation wasn't exactly a breeze. "I think it's one of the hardest things I think I've ever done," she shared. "You have your own personal feelings, but when you can put those aside and just put your child first… it sounds great when you're all in love, but when you go through something, it's such a challenge." She also said that as difficult as it may be, it "pays off and they're happy, beautiful, flourishing children."
Khloé also told the talk show host she sought inspiration from co-parents within her family, particularly her sister Kourtney Kardashian and her ex Scott Disick, who share three children together, as well as her parents, Kris Jenner and Caitlyn Jenner.
Khloe Kardashian wanted another baby with Tristan Thompson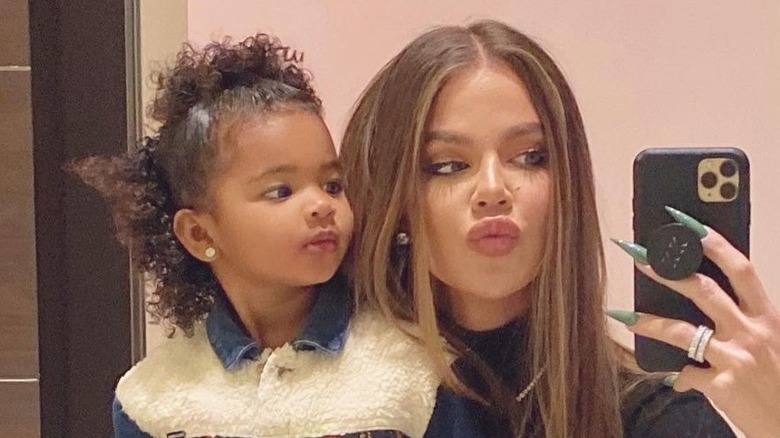 Though Khloé Kardashian and Tristan Thompson had not yet officially confirmed they were an item again themselves, a source alleged to Us Weekly in August 2020 that the two were back on and were even looking to have another baby. The tipster told the outlet, "Khloé would love to give daughter True a sibling because she is at the perfect age."
Khloé confirmed her baby plans on the final season of "Keeping Up with the Kardashians." In one scene, she shared that she wanted her daughter to have a sibling — and she hoped Tristan would be the father. "I just feel like it's now time to have another kid," Khloé told him.
Fans then watched as the two looked into a number of avenues for welcoming a second child together throughout Season 20 — including looking seriously into surrogacy and IVF. During part two of the "Keeping Up with the Kardashians" reunion special, which aired in June 2021 but was filmed in April 2021, Khloé confirmed that they did find a surrogate to carry their second child, but things "fell through" (via Hollywood Life).
Tristan Thompson was accused of cheating on Khloe Kardashian yet again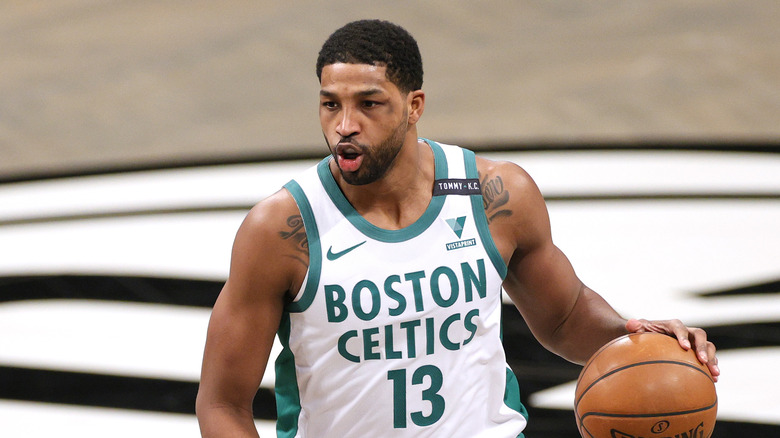 As Khloé Kardashian and Tristan Thompson's fertility struggles played out on "Keeping Up with the Kardashians," the latter was hit with yet another cheating scandal. In April 2021, Thompson was accused of hooking up with model Sydney Chase.
Chase made the case during an episode of the "No Jumper" podcast, claiming she'd been intimate with Thompson in January 2021 — while he was seemingly back on with Khloé. "He told me he was not in a relationship anymore, so I said okay. We talked, we hung out multiple times, we went out together, everything," she said (via Page Six).
The video of the podcast has since been made private on YouTube, with host Adam John Grandmaison telling Page Six that Thompson's lawyer had sent out a cease-and-desist letter over the episode. According to the outlet, Thompson denied the claims, accusing Chase of making "numerous false and defamatory statements" and calling her "a liar."
Khloe Kardashian confirmed she was back on with Tristan Thompson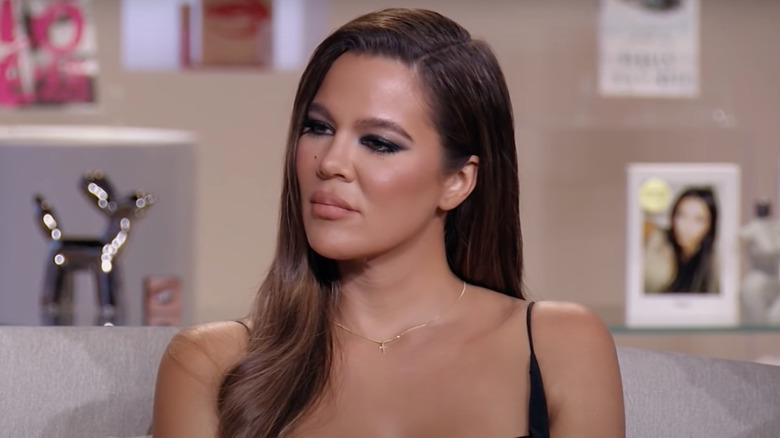 On March 13, 2021, Khloé Kardashian wished Tristan Thompson a happy birthday on Instagram with a sentimental message that sure seemed to suggest that they were back on. Naturally, their reconciliation came up when the family joined Andy Cohen the following month for the "Keeping Up with the Kardashians" reunion special. When Cohen asked Khloé about her relationship with Thompson, she said (via Hollywood Life), "He's a great dad. It was just this natural progression. I'm not saying it's what I would encourage other people to do, it's just what naturally happened for him and I."
Cohen also hinted at the years of cheating allegations that have plagued the couple and wondered if Khloé had any doubts. "I can't worry too much about everything else," she replied. "I know the growth and all the work that he's done. I know the help he's got and the constant efforts that he makes every single day and how hard he fought to get back with me."
Khloé pointed out that getting help "wasn't an easy thing for" her boyfriend, and added, "I don't understand why someone would go through all that if they weren't serious." Well…
Khloe Kardashian and Tristan Thompson apparently ended things for good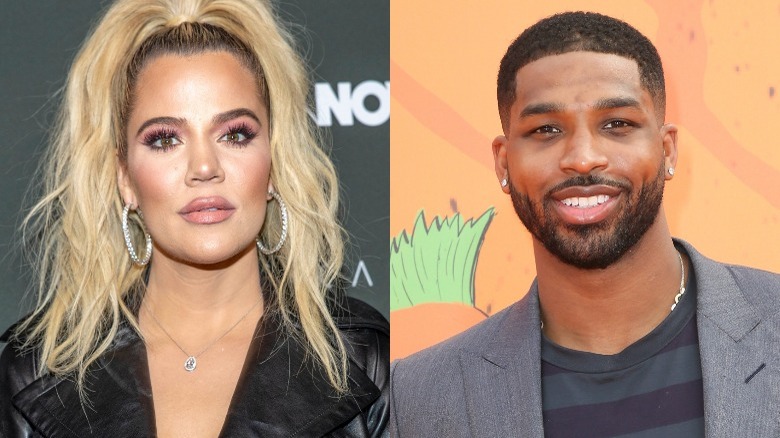 Ouch. Khloé Kardashian's remarks during the "Keeping Up with the Kardashians" reunion didn't age well at all. Just one day — yes, one day — after the final episode aired, the news broke that Khloé and Tristan Thompson had called it quits once again. This surfaced right after the Daily Mail reported that the NBA star was spotted out at a party with other women.
On June 21, 2021, Page Six reported that the two split up. A source told E! News that they had "been working through the cheating rumors" for around two weeks, but Khloé made it very clear to Thompson that "he lost all of her trust and the relationship could not be repaired." The tipster added, "Khloé really tried, but ultimately, felt too betrayed by him. She's done and says she will not go back."
It sounds like Thompson didn't waste too much time getting back into the swing of things, either. Regarding the aforementioned party, a tipster told Entertainment Tonight that the athlete was supposedly "acting very single." The source also noted that the exes "will continue to co-parent True together in a healthy, loving way" and said the two had "ended their relationship a few weeks" before the news went public.
Have things between Khloé Kardashian and Tristan Thompson cooled down once and for all? Only time will tell. 
Source: Read Full Article