Who Has Matthew Perry Dated?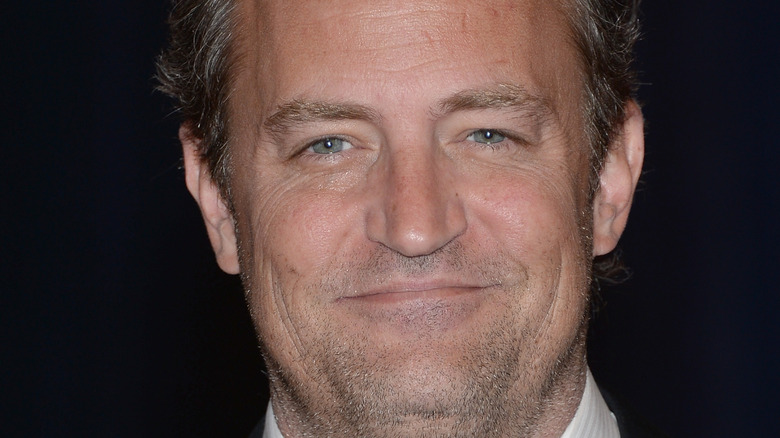 Matthew Perry has recently found himself single again. The 51-year-old actor and Molly Hurwitz announced the end of their engagement in June 2021. The two had started dating in 2018 and got engaged just seven months before the end of her relationship (per E! News).
Perry got his first taste of dating in the Hollywood spotlight when he was spotted having dinners with Julia Roberts following her guest appearance on "Friends."
"She was interested in him from afar because he's so charming," said staff writer Alexa Junge about Roberts' appearance (per Insider). "There was a lot of flirting over faxing. She was giving him these questionnaires like, 'Why should I go out with you?' And everyone in the writers room helped him explain to her why."
"They were just dinner and nothing happened," Perry said of the meet-ups to Entertainment Weekly. "If you have dinner with someone and the next day the country thinks you're in a relationship, it gets a little weird," he says. "I was confused about dating before 'Friends'. This all just makes it more confusing."
Coincidentally, Perry's next girlfriend also made a guest appearance on Friends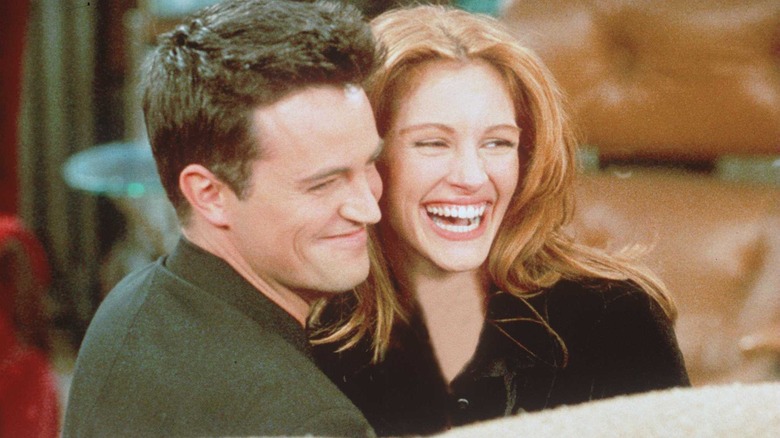 Julia Roberts wouldn't be the only one of Matthew Perry's love interests to appear on the show. Shortly after his nights out with Roberts, Perry moved on to model Yasmine Bleeth, who also appeared in a guest spot on the series. The model was known, at the time, for her role on "Baywatch," so it was a pretty hot pairing as far as '90s up-and-comers were concerned (per Narcity). Still, the couple didn't last long, splitting up after just a few months together.
Perry was linked to a number of famous faces throughout the remainder of 1996. In 1997, Perry would be involved in a jet ski accident that kicked off his issues with addiction, per US Weekly. Later that year, Perry checked himself into rehab for struggles with prescription pills. 
If you or anyone you know is struggling with addiction issues, help is available. Visit the Substance Abuse and Mental Health Services Administration website or contact SAMHSA's National Helpline at 1-800-662-HELP (4357).
Matthew entered a new relationship with a co-star in 1998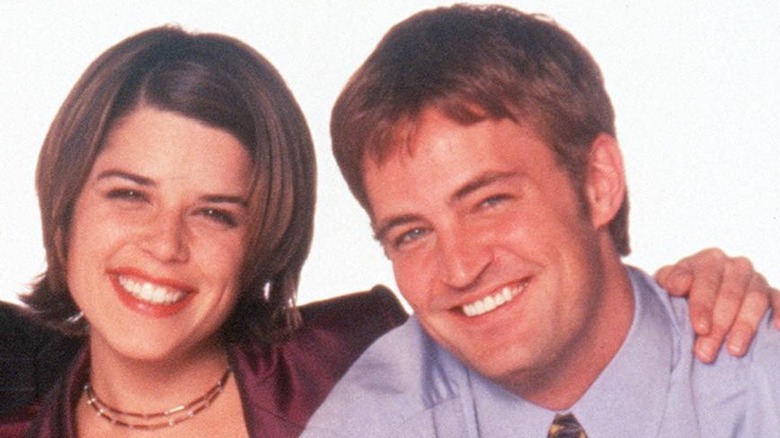 Matthew Perry was working on figuring out his life in 1998 when he signed on to the film "Three To Tango." When he met co-star Neve Campbell, sparks flew. The two were reportedly hot and heavy while the movie was filming from April through July of that year (per IMDb). It didn't last, however, and the two were broken up before the film's release. 
After the relationship, Perry worked on keeping his relationships out of the public eye. From the end of their relationship in 1998 until 2002, Perry didn't publicly cop to dating anyone. In 2002, the actor began dating "Bold & The Beautiful" star Maeve Quinlan. The relationship only lasted about a year, but it seemed to be one of the more serious of his relationships at that point (per Narcity).
Perry followed the relationship with a brief fling with Heather Graham.
Matthew briefly caught the eye of a former 'Gilmore Girl'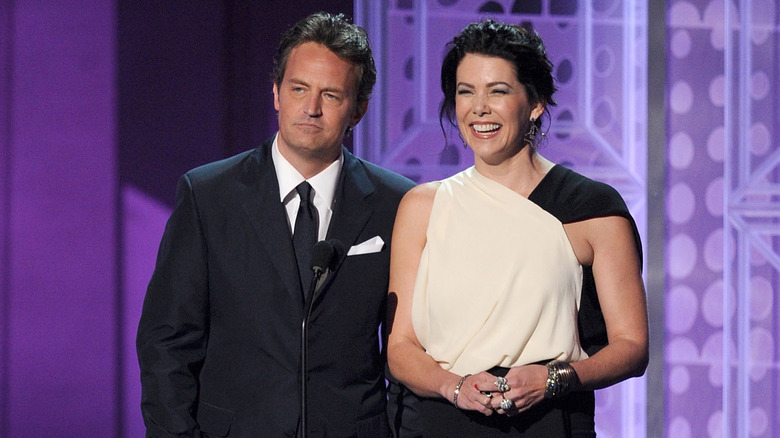 Matthew Perry and Lauren Graham have worked together several times over the years. They even played exes in "The Odd Couple," which is pretty fitting since the two are kind of exes in real life. The two reportedly put their chemistry to the test in 2003 and briefly dated (per In Touch Weekly). Things didn't work out between them but they continued to be friends and work together again. 
Later in 2003, Perry met Rachel Dunn, a fashion student 14 years younger than him. The two hit it off and proceeded to date for two years. Dunn even briefly moved from New York to Los Angeles to make things work with Perry, but co-habitating didn't work for the couple. In the end, their lives were in different places. "There was no drama involved (in the breakup), just a commitment by Matthew to stay focused on his sobriety," a source told People of the split.
Matthew's next relationship would span years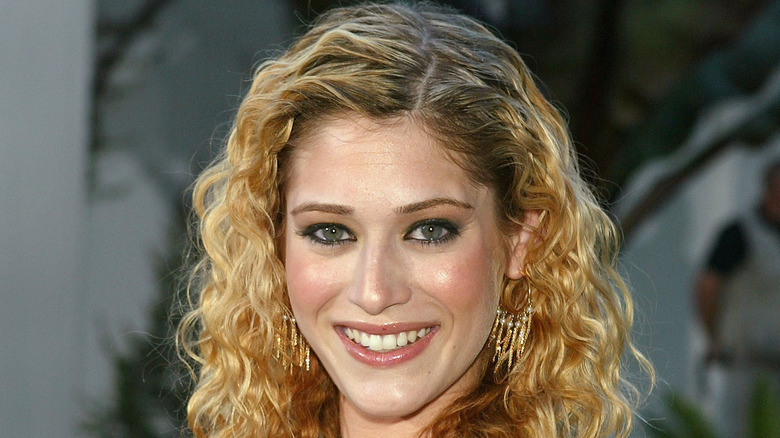 Shortly after things ended with Rachel Dunn, Matthew Perry was introduced to a young actress named Lizzy Caplan. Caplan and Perry also have a sizable age difference with 12 years between them, but it didn't stop sparks from flying. The two were able to keep their relationship very private, only being spotted together a few times throughout their six year long relationship. From 2006 to 2012, the two didn't formally discuss their relationship in interviews.
Caplan did seem to allude to her relationship with Perry in an interview with The Independent discussing paparazzi. "I can stand right next to paparazzi, and I do that sometimes," she said (per Hello! Magazine). "I'm close with people who are far more famous, and they know how to avoid attention."
The public wouldn't find out the two split for over a year after the breakup. Sources indicated that the split came because Caplan was ready to settle down, but Perry had concerns.
Fans thought Matthew found the real thing with Molly Hurwitz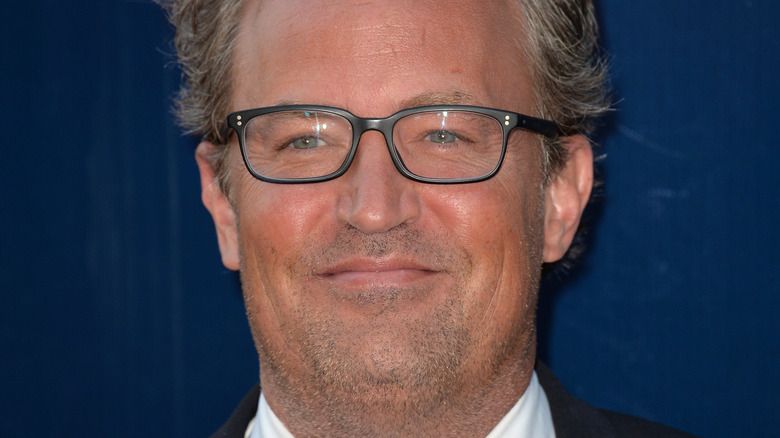 From 2012 to 2018, Matthew Perry decided to keep his private life out of the public eye. He focused on his sobriety and projects related to helping others get sober, like opening his own halfway house (per My Recovery). In 2018, the actor met talent manager Molly Hurwitz and the two began seeing each other. They were able to keep things under wraps for about a year before they were spotted together at dinner in late 2019 (per Nine AU).
On Valentine's Day 2020, Hurwitz made it official with an Instagram photo of the two of them. "Second year being my valentine, but his first as an Instagram influencer," she joked, referencing the actor's decision to join the platform. They would briefly split mid-year, only to reconcile within weeks.
Later that year around Thanksgiving, Perry would reveal the two got engaged. "I decided to get engaged," he told People. "Luckily, I happened to be dating the greatest woman on the face of the planet at this time." It seemed like Perry had finally met his match, but sadly the relationship didn't work out. In early June 2021, Perry announced the two had broken up, wishing Hurwitz the best.
Source: Read Full Article