Chrishell Stause Shuts Down Misogynist Remark About Her New $3.3 Million House
When firing back at speculation that her boss Jason Oppenheim is the real estate agent of her new property, the 'Dancing with the Stars' alum insists, 'I was the damn agent.'
AceShowbiz –Chrishell Stause has made it clear that she is capable of handling her own business. After rumors spread that she wasn't the agent of her new $3.3 million house, the "Dancing with the Stars" alum shut it down while branding the notion misogynist.
The 39-year-old TV personality took to Instagram Story on Tuesday, June 22 to fire back at the reports that claimed her boss Jason Oppenheim was the real estate agent in charge of getting her the home she just bought. "I just got told that a story came out about my house, and it says that Jason was the agent on it," the "Selling Sunset" star said. She went on to note, "And I really don't feel like this happens to men. I was my agent. I did it."
"I don't know what happened there. I just want to be very clear: I worked on this," Chrishell stressed. Demanding credit for her accomplishment, she explained, "Yes, I used Jason to help me, he's my broker. But I was the damn agent, give me some credit, thank you."
In the following Story, Chrishell posted a Story that saw Jason defending her, "So I just saw Chrishell's story, where unfortunately there were press articles about the sale of her house, that credit me as being the agent that represented her, but that's not the case." The Oppenheim Group co-founder stated, "Chrishell represented herself. I think it's quite frustrating for her."
Chrishell also posted on her Instagram Story a screenshot of an Instagram direct message from a fan. The DM read, "Who cares though? You bought it which is all that matters. I don't get why this is such a big deal." The reality star replied, "Well because if they are going to blast all the details of my home out, at LEAST get that right." She continued, "A fumble on the selling side that they corrected but that no one bothered to fact check before reporting."
"Also I worked really hard on this and it wouldn't hurt to get new possible clients if it's gonna be all over the place. Credit where credit is due that's all. It's a constant battle to let people know I am a REAL hard-working agent, not just for TV. And this didn't help," Chrishell added in her caption. She then concluded, "After all, I have a house to pay for," with a wink emoji.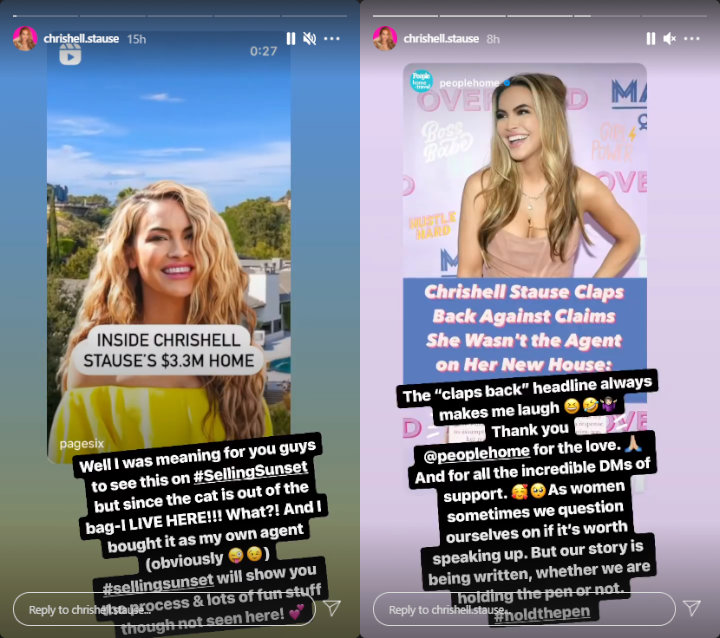 Chrishell Stause addressed the misogynist remark.
On the next day, Chrishell reminded her female fans and followers about the importance of speaking out. "As women sometimes we question ourselves on if it's worth speaking up. But our story is being written, whether we are holding the pen or not. #holdthepen," the star wrote in an Instagram Story.
Source: Read Full Article