Would you punt the house to restore your name?
In 30 years' broadcasting at ABC Radio I was sued twice – once by a Liberal politician and once by an ALP politician. Who said the ABC is not even handed?
One claim was because of something said by a guest – a senior politician who made a mistake and we both got sued. The other was when I relied upon a supposedly first-hand account about some political skulduggery and my informant went to water when it mattered. Both claims were settled for only a nominal contribution to the aggrieved plaintiff's costs, plus an on-air apology.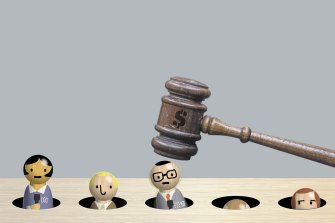 Defamation threats can stifle robust debate.Credit:Illustration: Matt Davidson
Over the years, empty legal threats would rain down like confetti. The largest number came from Peter Dutton, who took a special interest in everything I said about him.
The ABC managers developed "Dutton fatigue". No doubt the relentless pressure was designed to make me cool my jets, to be more cautious in my commentary about the combative ex-policeman from Queensland.
At one exasperated stage I told my manager I wanted to start my own proceedings against the minister alleging he defamed me for claiming I was defaming him when plainly I was not. I argued that it was defamatory to accuse a professional broadcaster of defamation for no reason, as the inference was that I was reckless or incompetent, derelict in my obligations to my employer, in breach of the ABC charter and someone the audience could not trust.
After the ABC heavies stopped giggling, I was told to pull my head in.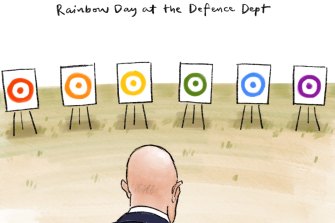 Waking up to that "woke agenda".Credit:Cathy Wilcox
I note that Mr Dutton these days continues to keep the lawyers busy, defending the ever-vulnerable, fragile Defence Department from the terrifying threat of LGBTIQ staff organising morning tea, as well as refugee advocates seeking more humane policies from this heartless government.
Defamation claims are in the news every day and the stakes in these mega-tussles could not be higher.
The Victoria Cross winner Ben Roberts-Smith, reportedly underwritten by media mogul Kerry Stokes from Channel 7, is putting this newspapers' owner to the test, claiming that reports of war crimes have cost him his reputation as a war hero as well as hundreds of thousands, if not millions of dollars in lost and future earnings.
He denies he murdered a number of Afghans; the journalists insist they can prove it to be true. An epic court-room battle has begun.
Last month, the former attorney-general Christian Porter took the ABC to court and settled with an own goal. Although he claimed his reputation was destroyed over allegations which he denies, he withdrew his case for zero compensation. Strangely, he also agreed that the offending story he claimed defamed him could remain online, albeit with an extra sentence added to clarify any misunderstandings that may arise from reading it.
Curiously, although he was the subject of two Four Corners′ TV documentaries, Mr Porter chose not to sue either of them, but only in relation to an ABC online story. The reason for that odd tactic has never been made clear, but may it be that there was material that was not online but was in the TV shows that Mr Porter did not want explored further?
Several senior journalists, including some who posture as expert legal commentators, confidently predicted the ABC would not just lose the Porter case but be "humiliated". Who is humiliated now? It is astonishing how sure some people are of that which they know so little about.
Porter is out of pocket by at least half a million dollars for the attempt to rescue his political life through a defamation claim. Whether his career can be resurrected will depend on the voters at the next poll. It will be fascinating to see how the ALP campaign in his seat – do they dredge it up or leave it alone?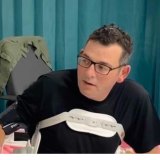 Premier Daniel Andrews, pictured in intensive care in March.Credit: Supplied
This week, the Victorian Liberal shadow treasurer Louise Staley publicly questioned the circumstances surrounding the injury of and prolonged absence of the Premier. Could Dan Andrews now sue her for defamation?
The inferences in her questions were that he has been less than frank in his public account and therefore a person who cannot be trusted, despite being in a position of authority. There is no suggestion that Mr Andrews will sue, although there are ample precedents for politicians suing each other.
The biggest problem with defamation litigation is that it is so expensive; it is only available to the wealthy and the powerful – or the recklessly obsessed.
Ordinary citizens have no hope of litigating to protect their reputations. Who among us could afford to punt the cost of a house on a court battle?
Despite years of efforts at law reform, there is no 'small claims tribunal' for an ordinary citizen whose reputation has been wronged. In lieu of court, there is a need to adopt the model of restorative justice tribunals, along the lines of the Koori Court or the Drug Court, where everybody sits down with a mediator and talks through the issues.
Instead of chasing a bucket of cash, most of us would be grateful for a sincere face-to-face apology, a shared understanding of the harm caused and an undertaking to not repeat the insult.
Most of us – except politicians.
Most Viewed in National
From our partners
Source: Read Full Article