That time in our lives when we need to really start living
Last month my friend Deb Clarke debuted on the backline in the twos for the Geelong Amateur Football Club. She did enough to be named—by her coach, former Cats star Tim McGrath—at full forward for the next match.
The club is so competitive Mardi Dangerfield runs around in the ones. Most of the team has uni assignments and P plates. Deb is a 50-year-old mum of three reigniting an old passion after years overseas.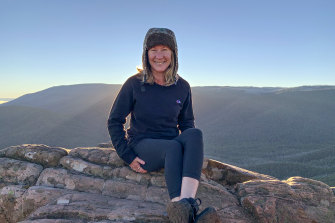 Columnist Kate Halfpenny at the Cathedral Ranges
At 10, she loved kicking with her brother on the farm so much she trained with a club: "But Dad said I couldn't play. So really it was a childhood dream that was delayed a bit."
Deb is one of a clutch of fantastic women in my life shrugging off the tackle of COVID—and the diminishing ties of motherhood and perhaps career—by seeking fun wherever, whenever they can.
Shock diagnoses and lost friends have taught us to live now. We're finding challenges and connection simply by saying, 'yes thanks, I will do that, how unreal'.
Think small adventures, not grand gesture Camino walks. Minus wetsuits, all-female group The Jellyfish takes the daily icy plunge at Williamstown. In Melbourne's east, business owner Katrina McCarter has a tennis lesson every Monday night with her husband.
"He just turned 50 and we decided we'd done a lot of parenting hard yakka and this time was about more fun," she says.
"We started with shopping together for my tennis dress."
Fun is tricky to find as an adult. You can be poolside in Phuket and still get stuck thinking about career and mortgages and schools and 'oh God, will I have enough super, and health insurance and the dog's arthritis and perimenopausal rosacea'.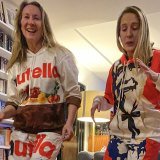 Columnist Kate Halfpenny and her daughter strut their stuff in brand-theme tracksuits
It's different as a kid. Those summer days of having a cold Milo then playing Scalextric, painting a Shaker Maker figure and riding your dragstar. Afternoon whirlpools in the Clark Rubber pool before a dinner of chops and iceberg lettuce.
Even before global lockdown, statistics bore out a fun drought. A 2019 US study of 2000 Americans found most experienced a third of their years with no fun at all and nearly three quarters missed unencumbered childhood pursuits.
Like my friends, I'm trying to recapture that by saying yes to adventures that are new or will teach something. It's advice I ignored when Melbourne society doyenne Lillian Frank gave it in 1986.
Now, while I won't take you to the airport, I will mind your kids (if I like them) come see you play tambourine in a band and—you know who you are—do magic mushies on a beach.
Before the sun rose one morning this week, I was on top of a mountain in the Cathedral Ranges with Dan Burgess, founder of The Phoenix Experience. He teaches empowerment and told me meeting at 4am to bushwalk in silence with headtorches would blow my mind.
I'm so glad I said yes. The Derwent pencil orange and blues at the rim of the sky. The river of clouds doing a samba far below. Buttered banana bread and two hours talking about everything and nothing.
The feeling of loving the world was like a sugar rush.
A neighbour invited me to help out at her dog grooming business. Yes! I found out the visually hilarious secret to cutting dogs' nails but Maria's generosity was poorly rewarded. Ever tried to blow dry a poodle so the hair roots are straight but their skin isn't burned?
Once the groceries are unpacked, our weekends are blocked off for fun. Dave Grohl Saturdays where we never tire of the Long Road to Ruin clip. Dancing with my daughter in novelty Nutella and KFC tracksuits. Sundays dedicated to cocktails and heaps of kissing in front of the footy.
Lillian was right. Fun is about play and being childlike is the best time you can have as an adult. Say no to saying no, people!
Kate Halfpenny is the founder of Bad Mother Media.
Opinion newsletter
Opinion takes on the week's most debated topics with views that will challenge, champion and inform your own. Coming soon, sign up now.
Most Viewed in Lifestyle
From our partners
Source: Read Full Article