WHO urges against vaccine passports, even for international travel
London: The World Health Organisation says people should not be required to prove they have been vaccinated against COVID-19 in order to travel overseas, warning that vaccine passports would isolate poorer countries.
Dr Mike Ryan, who leads WHO's public health emergencies program, said it was vital to record that a person had been vaccinated, but said using that information to allow or prohibit a person from taking part in regular life raised complex, ethical issues.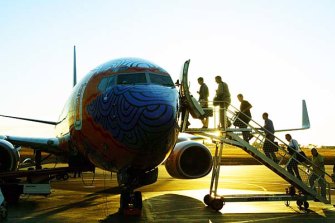 The World Health Organisation says people should not have to prove they are vaccinated before they can travel internationally.Credit:Andrew Quilty
"This is a complex issue … There are ethical issues regarding equity, we already have a huge issue with vaccine equity in the world," Dr Ryan told a virtual news conference from WHO's headquarters in Geneva.
"The imposition of requirements for certification of vaccination before travel could introduce another layer or such inequity.
"If you don't have access to vaccine in the country then you will effectively become isolated as a country as vaccine passports kick in.
"So there are many, many, many issues."
However, Dr Ryan said WHO officials had only temporarily recommended against vaccine passports for international travel. The organisation would reconsider the issue at a meeting on April 15.
He said another group of officials would examine the ethical, social and scientific data regarding vaccine passports.
Australia has begun preparations for an international vaccine passport, but it is not required when quarantine-free travel between New Zealand and Australia resumes on April 18 due to the countries' COVID-free status.
Qantas CEO Alan Joyce has previously said the Australian airline will insist on vaccination as a condition of boarding and that such a requirement could be included in the company's terms and conditions when booking a ticket. The International Air Transport Association (IATA) said at the time that a compulsory vaccination stance was "premature;" IATA has developed a trial app or digital health pass where a passenger's verified vaccination and testing records can be stored.
The US, Britain and UK have all said they will not make vaccinations mandatory.
A furious debate about vaccine passports is under way in Britain where three in five adults have already been vaccinated, causing the country's coronavirus infections and related deaths to collapse to their lowest levels since last summer.
Prime Minister Boris Johnson has said Britons could be required to show either proof of immunity to COVID-19, vaccination or a negative test result in order to attend mass gatherings, with the economy to be fully reopened by July.
His spokesperson has not ruled out their use for activities like shopping, saying they "could have an important role to play both domestically and internationally, in terms of allowing people to move back to something more close to normal".
However, the Labour opposition and at least 41 of Johnson's own MPs say requiring a person to show proof of vaccination to conduct regular activities like go to the shops would be "un-British".
Steve Baker, the influential Conservative backbencher leading the fight against vaccine passports, said such a scheme would make Britain "unrecognisable" as well as discriminate against those unable to be vaccinated, including pregnant women and the disabled.
"After the toll families and friends have paid all over the country in the face of COVID, and after enduring the devastating cycle of lockdowns and restrictions, the last thing we should do is allow COVID to have the victory of changing our country forever into the miserable dystopia of Checkpoint Britain," Baker said.
The issue is also dividing Americans. Some Republicans are strongly opposed to what has been dubbed "corporate communism", while some Democrats are backing them as a tool to enable the resumption of mass gatherings. New York was the first state to officially launch a vaccine passport app, while Texas and Florida have banned them.
The Biden administration has not endorsed a national vaccine passport and said it will be a matter for the states.
Get our Coronavirus Update newsletter
Stay across the news you need to know related to the pandemic. Sent Monday and Thursday. Sign up here.
Most Viewed in World
From our partners
Source: Read Full Article