Vaccine export blocker Italy has largest AstraZeneca reserves in EU
Brussels/Rome: No European Union country has a bigger stock of AstraZeneca vaccines or has used a smaller percentage of its stock than Italy, analysis shows.
Rome, with European Commission permission, stopped a shipment of 250,000 of the Oxford University jabs leaving the EU for Australia.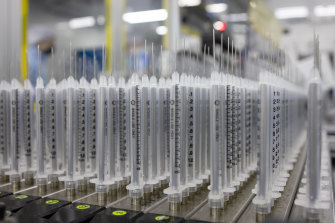 Italy has prevented 250,000 vaccine doses from being exported to Australia. Credit:Bloomberg
The export ban was a rebuke to the British-Swedish pharmaceutical company, which Brussels, and Italy, accuses of breaking its contractual obligations to the EU. AstraZeneca denies that.
In January it cut its supplies to the EU in the first quarter to 40 million doses from 90 million foreseen in the contract, and later said it would cut deliveries by another 50 per cent in the second quarter.
The EU has lagged far behind the UK, US and Israel in its vaccination rollout, which it blames on the supply shortfalls.
Mario Draghi, Italy's new prime minister, is determined to use AstraZeneca to speed up vaccinations as the country gears itself to face a third wave of infections.
He is expected to lift age restrictions on the jab and follow Britain's lead in having a longer gap between first and second doses to increase the number of people having at least one shot.
But a new YouGov survey of 1029 Italians found that almost a quarter (23 per cent) would refuse the AstraZeneca jab and demand an alternative.
While Italy was blocking the shipment to Australia, it had the largest reserve of that company's doses in the EU. It also had the third largest total stock of vaccines, which include the Pfizer and Moderna jabs, behind France and Germany.
Italy has more than 1.5 million AstraZeneca vaccines, according to data from the European Centre for Disease Prevention and Control.
The third most populous EU country behind Germany and France has used just 322,801 of its jabs – a mere 21.3 per cent, as of Friday.
It is a lower percentage than every other EU country except Malta, which has never received any AstraZeneca vaccines at all.
Germany has 1.4 million doses of AstraZeneca and has dished out 466,596 or 32 percent of its stock. France has just over 1.1 million AstraZeneca doses and has administered 275,529, about 24 per cent.
Spain has administered 47 percent (382,962) out of its 808,600 doses of the Oxford jab.
Belgium is the closest to Italy's low percentage, doling out just 21.7 percent of its 201,600 AstraZeneca jabs.
Italy still performs poorly in the EU when it comes to the percentage of its total vaccine stock of 6.4 million jabs.
Rome has administered 67.6 per cent, 4.3 million doses, of its stock, which lags behind most of the EU, including countries such as Spain, Lithuania, Latvia, Poland, Portugal and Romania.
Only Bulgaria, Croatia, Hungary, Luxembourg and the Netherlands have used a lower percentage of their total vaccine stock.
In Italy, some 3.5 million people out of the 60 million strong population have received at least one dose of a COVID-19 vaccine.
Italy's new government led by Mario Draghi wants to speed up the administration of AstraZeneca and other doses by drafting in doctors and nurses from the Italian armed forces and the widely-respected Civil Protection Agency, which deals with floods, earthquakes, avalanches and other natural disasters.
The use of the military will be made easier by the recent appointment of an army general, Francesco Paolo Figliuolo, as Italy's commissioner for the COVID-19 emergency.
The Telegraph, London
What in the World
A note direct from our foreign correspondents about what's making headlines around the world. Sign up for our weekly newsletter here. 
Most Viewed in World
From our partners
Source: Read Full Article