Reasons for delaying an integrity commission are blatant nonsense
Save articles for later
Add articles to your saved list and come back to them any time.
It is nonsense to keep on delaying the introduction of a well-resourced Commonwealth Integrity Commission with the appropriate structure and processes required to be a truly effective accountability institution.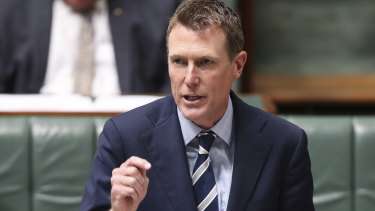 Attorney-General and Minister for Industrial Relations Christian Porter during Question Time at Parliament House.Credit:Alex Ellinghausen
It is also nonsense to suggest that the reason why the government has delayed introducing legislation to establish one is because the Attorney-General's Department has been preoccupied with COVID-19 and industrial relations matters, and therefore could not devote resources to a CIC.
This excuse is not credible — it is asking the Australian people to accept that a department as large as the Attorney-General's is unable to deal with more than a couple of policy issues at any one time.
It is also a questionable excuse, because a draft model was released in December 2018 and several accountability experts attended a meeting, hosted by senior members of the Attorney-General's Department toward the end of January 2019, to provide informed feedback on the proposed model. The invitation was in the guise of a consultation process but during that meeting, attendees were told that the model's structure was "firm" and that legislation to establish a CIC would be introduced into Parliament in February 2019.
February 2019 came and went, as has February 2020. At this rate, so too might February 2021.
The promise made by the government in the lead-up to the 2019 election to establish a CIC has been lingering in the "fringe issue" ether for far too long. One cannot help but wonder if it will still be dwelling there after the next election.
Despite public feedback on a CIC by learned experts in the anti-corruption field, the saga, which began in 2018, drags on. Not one independent person with expertise in anti-corruption models supports the CIC's proposed structure.
In all good conscience, it is impossible to do so because it is blatantly designed to shield the conduct of politicians and many public servants from public hearings. The shield is impregnable — the CIC explicitly excludes them from such a process.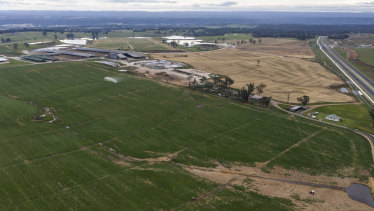 Properties near site of Sydney's new airport at Badgerys Creek.Credit:Wolter Peeters
While the Attorney-General's Department may be incapable of dealing with several matters at the one time, the Australian people are not. They have been calling for an effective national anti-corruption body for years. Why has the government assumed it is not a priority for them today, especially given the revelations surrounding matters such as the sports rorts affair and the Badgerys Creek land deal?
The government claims that the delay in establishing a National Integrity Commission relates, in part, to retrospectivity issues. An easy way to solve this supposed problem is to look at how other effective anti-corruption bodies have addressed the matter.
The Attorney-General has told Australians that draft legislation will be made public in the next few weeks and will be subject to a public consultation process. One can only hope that what is released has been significantly modified to take into account the well-founded criticisms by anti-corruption experts, and that a revised model adopts many of the positive aspects of anti-corruption legislation already put forward by independent parliamentarians.
To stubbornly ignore the views of experts and enlightened parliamentarians is to place personal and party interests before the public interest. The electorate will remember such an approach — there is only so much nonsense it is prepared to tolerate in relation to the establishment of an anti-corruption commission.
Dr Colleen Lewis is Honorary Professor at the Australian Studies Institute, ANU.
Get our Morning & Evening Edition newsletters
The most important news, analysis and insights delivered to your inbox at the start and end of each day. Sign up here.
Most Viewed in National
Source: Read Full Article