Lizzo Brings "Auntie Sam Realness" to Decision 2020 as She Votes in Patriotic Bralette
Lizzo was feeling "Good as Hell" when she cast her vote for Decision 2020. See the singer's look as she dropped off her ballot in West Hollywood.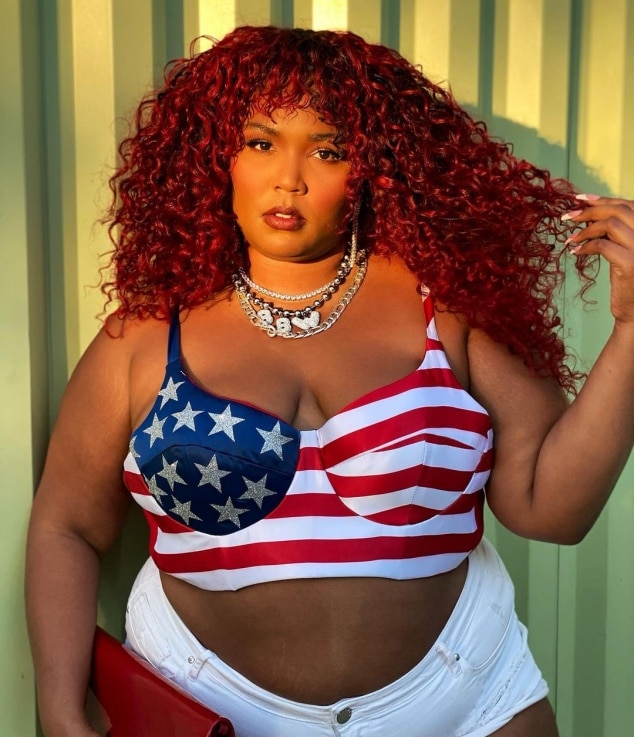 Lizzo is casting her vote in style!
With just days to go until the 2020 Presidential election, one music superstar decided to document her journey to the ballot box on social media. In an Instagram post on Oct. 28, Lizzo headed to West Hollywood, Calif., to drop off her ballot early.
"I VOTED," the 32-year-old wrote on Instagram. "This is my 3rd time voting in my whole life. When you think about how few and far in between that is it really puts things into perspective! I believe this is the beginning of making voting ACCESSIBLE and FAIR so that this country reflects its people."
She continued, "To all my activists, thank you for your constant organizing & service. Let's get our vote in so we can get back to the good fight for true liberty and justice for ALL. Have YOU voted yet?"
And for those curious about the "Good as Hell" singer's look for the occasion, Lizzo was quick to call it "Auntie Sam realness."
"RECLAIMING MY TIME MY COUNTRY MY RIGHTS," she wrote while wearing a flag bralette styled by Marko Monroe. Lizzo also gave credit to Alexx Mayo for providing makeup while Shelby Swain perfected the hair.
Lizzo is just one of many Hollywood stars preparing to cast their vote. Keep scrolling to see why some of your favorite celebrities are voting in the upcoming election.
Trending Stories
19 Kids and Beyond: A Complete Guide to the Sprawling Duggar Family
Where to Buy Beyoncé's Ivy Park x Adidas Drip 2 Before It Sells Out!
Khloe Kardashian Responds to Backlash Over Kim's 40th Birthday Trip
Why does Demi vote? She writes on Instagram, "I vote because I love my country. From my friends and family members who live here, to my neighbors and millions of people I don't know, I love the citizens here. This year I've been so stressed and anxious from politics alone. This post isn't about telling you to vote for, it's about telling you to vote PERIOD. I want to know that whatever the outcome is, we raised our voices and spoke up for what we wanted. And if change is what you want, nothing will change unless you take action. So please, if you are old enough, please get out there and speak up. P.S. I'm so grateful to have been able to vote because it wasn't too long ago women didn't even have those rights.. (see what happens when we demand change?)"
Looking back at the last presidential election, the singer writes, "2016 I was on a red eye to New York City. I fell asleep prepared to celebrate the first female president on national television, I woke up to see Donald Trump's face on the backs of all the seats on my plane. Stunned into silence I wanted to change my performance—sing anything else but 'Good as Hell.' But with minutes to spare I decided that we were going to move forward and make the best of what we got. I quickly arranged this version of 'Lift Every Voice' and said the only person who can make this country great is you. The people. I am posting this for any undecided voters. Any person who feels unimportant or unseen. Remember that feeling of hopelessness from last time? Let's do everything we can to ensure that this time our voice is heard. Have you voted yet?"
"I voted absentee last week with my daughter next to me, for an America I want her to see; but not just for us—for fellow Americans that are less privileged, with hope for a nation that is unified, that is empathetic, & for a leader that is compassionate," Gigi shares on Instagram. 
"If you're voting for the first time, or you're still not sure if you even wanna vote—because you think your voice won't make an impact, or you don't trust the process, or it all seems just like a headache… all I can say is, we really need you," the singer writs on Instagram. This is about our children growing up in a world where racism is condemned, not tolerated. It's about ensuring that women are empowered everywhere decisions are being made. We have to vote so we don't go backwards."
The Duchess of Sussex tells Marie Claire, "I know what it's like to have a voice, and also what it's like to feel voiceless. I also know that so many men and women have put their lives on the line for us to be heard. And that opportunity, that fundamental right, is in our ability to exercise our right to vote and to make all of our voices heard. One of my favorite quotes, and one that my husband and I have referred to often, is from Kate Sheppard, a leader in the suffragist movement in New Zealand, who said, 'Do not think your single vote does not matter much. The rain that refreshes the parched ground is made up of single drops. That is why I vote." 
"Democracy is about each and every one of us showing up to use the power of our vote! In 15 days, I want to know I did everything I could to get my fellow Americans to use their power in this all important election," she writes on Instagram, adding, "Spend some time talking to the people you know about why you vote and what you vote for. It can be joyful and energizing! This year we are voting for Decency, Respect, and Democracy itself! Vote Now! And vote Early! And then urge every one of your friends, family and neighbors to do the same!
The Honest Company founder captions a photo of her and hubby Cash Warren, "Mom & Dad over here feeling productive. Even if voting is the only thing you do in a day, you're able to feel like you did something major! It's pretty amazing! GO VOTE!!! We believe in fairness, equality, and treating people with dignity. We are black and brown entrepreneurs. We are proud Americans. As importantly, we love being part of the GLOBAL Community. We believe in protecting our planet. We believe in helping those in need. We hate racists w a passion. Vote for BASIC HUMAN DECENCY. Our leadership needs to reflect that. Period."
For the Marvel star, he believes the younger generations "really are the future," and will make the world a better place. "I think we are on the cusp of a really motivated, driven generation of young people who are very awake and connected," Chris explains. "Now more than ever, young people are involved in shaping the political and social landscape. It really is like a potter's wheel and these young voices are molding our future."
The country music singer shares, "…embarrassingly but honestly, this is my first time voting. Im not proud of it, but my naivety has kept me sheltered through a lot of my young adult life. BUT. As I've listened and learned, I've realized its our responsibility and privilege to use our voices to establish what we as human beings with beating hearts want to see in this country for not only ourselves…but our friends, neighbors, strangers, and future generations."
"The political climate this election is intense. It can feel really overwhelming and scary to even have an opinion, knowing if you share it you will get ruthlessly criticized regardless of your platform or perspective. There's a lot of noise…but I've learned that's when it's most important to be anything but silent. And our vote is our voice."
"America stands for so many beautiful things and I hope (and vote) that it continues to evolve and grow to be a place where EVERYONE is protected, respected, and given equal rights and opportunity. Left the polls feeling really empowered by exercising my right and showing up for what I believe in and the change I want to see. I encourage everyone to do the same."
J. Law views voting not as a civic duty, but a tool for change. She explains, "The bad news can feel overwhelming at times, but the most important thing is to stay focused on the ways we can all be part of the solution. In the wake of the deaths of George Floyd, Breonna Taylor, and countless others, I'm inspired by the millions of people around the world who have banded together to finally say 'enough'… the collective voice of the people enacting real change, and that gives me hope."
However, she adds, "But there's still a lot of anger, which I think is important."
The artist's reasons for participating in this election are simple. He says, "I'm voting because I haven't been happy with the leadership. I don't feel as though I'm being represented or that I'm being listened to, or that the Black community is being represented or listened to at large. Things need to change, starting with how we treat the people of color in the nation and how we're allowing these systems of racism to still exist and for us to still follow them. That's the main thing that keeps me up at night."
"WE Voted!!" the actress writes on social media. "This is a year of wokeness and understanding that we have to be the change we want to see. 'We've got some difficult days ahead. But it doesn't matter with me now. Because I've been to the mountaintop. And I don't mind. Like anybody,I would like to live a long life. Longevity has its place. But I'm not concerned about that now. I just want to do God's will. And he's allowed me to go up to the mountain. And I've looked over. And I've seen the promised land.' The vision and potential of this country cannot happen with complacency and/or apathy. Vote! Like your very breath depends on it VOTE! VOTE!!"
"I used my greatest superpower. I voted. I voted because, I believe being a woman is not a pre-existing condition. I voted because, I believe it's a woman decision what she does with her body. I voted, because I believe human rights, are for everyone , regardless of gender, sexual orientation or ethnicity. I voted, because I believe in science. I voted, because this disease is real and I've watched people die. Stand up for what you believe in and please vote," she writes on Instagram.
The singer is voting for numerous reasons, but equality is the biggest motivator. "The change we need most is to elect a president who recognizes that people of color deserve to feel safe and represented, that women deserve the right to choose what happens to their bodies, and that the LGBTQIA+ community deserves to be acknowledged and included," she shares. "Everyone deserves a government that takes global health risks seriously and puts the lives of its people first."
"Voting is a right we have as a part of a democracy. It is a freedom that many people in this world do not have, so being able to use our vote to help individuals and communities across America is a right we should all exercise," Bella shares, adding that she hopes to represent the "young generation" in the voting booth. "We all have a lot to say and want to be as vocal as possible—[voting] is how we can put our thoughts into action and see the changes we want to see."
Halsey will not accept any excuses, explaining that it's "more important" than ever to participate in this year's election. "There are millions of lives at risk, and if it's not millions of lives, then it's the safety and comfort of millions of lives," she states. "I have seen my fans line up outside of a venue for three days to get into a concert, and I've seen people line up outside of a GameStop because a new Call of Duty game is dropping. They should be doing the exact same thing at a polling center. It's like, 'Go get in line!'"
The Antebellum star is hoping to prevent voter suppression and secure equal rights for the Black community with her vote. She shares, "I will be voting against racist policies and tactics that have continued to oppress and traumatize Black people. Even I have been gerrymandered, just before the election of [Atlanta Mayor] Keisha Lance Bottoms, my county was redistricted, meaning her name was not on my ballot. After the election, my county went back to the original county lines. That is gerrymandering, and it is used to oppress and separate our voices."
The actress emphasizes the importance of voting, calling it the "responsibility" of American citizens. "We have liberties and freedoms in our country and advantages that not everyone has. It's something that we as citizens have to do and a right we shouldn't take for granted, especially when so many aren't afforded this right," she implores. "We need to all be actively participating in our democracy, and one degree of participation is voting."
As the soccer player puts it, she is going to her polling center to "vote in the interest of others" who may not enjoy the same rights she has.
"I believe voting is a part of a deep responsibility each of us have to make this country better. Every right and liberty [that] I enjoy has been voted into law," she states. "The world I want to live in is not reflected in our government officials and that needs to change. This election is a choice between democracy or autocracy. There is no other reason I need to vote in November." 
When the singer goes into the voting booth, she's casting a ballot for change. "Voting is so important because it is one way to show up for ourselves and our communities. It's an opportunity for us to honor our ancestors—those that were unable to vote because of racism and sexism—and elect people that we hold accountable," she explains, adding, "I am so proud of the young people organizing, particularly Black people, who are leading this movement."
For more information on how to participate in the 2020 elections, click here.
Source: Read Full Article