Woman tries to cross into NSW from Victoria in car boot
A disqualified driver has been charged after attempting to cross the border into NSW with a passenger in his car boot.
Officers stopped a Mitsubishi Magna on Saturday morning at a border checkpoint on the Hume Highway near Albury. The 34-year-old driver had a permit to enter NSW but was unable to produce identification.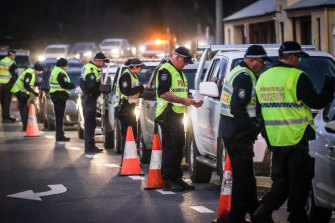 Police stop and question drivers at a checkpoint on the NSW-Victoria border in Albury.Credit:Getty Images
The man was arrested following further checks, which revealed he had been disqualified from driving.
Police then conducted a search of the vehicle to find a 41-year-old woman hiding in the boot. She was unable to produce a permit and was directed to return to Victoria.
The woman then left in the Mitsubishi and allegedly travelled through a red light.
She was issued with two traffic infringement notices, one for the red light offence and one for travelling in the boot of the car. She was also handed a $1000 fine for failing to comply with the COVID-19 public health order.
The male driver was taken to Albury Police Station and was charged for not complying with the COVID-19 laws, driving while disqualified and driving with a passenger in a part of the vehicle with no seatbelt.
He was refused bail and will face Albury Local Court on Monday.
Saturday's incident is not the first time someone has tried to defy border closures by travelling in a car boot.
In July, a man from NSW was caught trying to cross the Queensland border in the boot of a car.
The man was fined $4003 for attempting to enter Queensland without a permit, with the two passengers in the car refused entry.
A Geelong man was also fined by Victorian police after he was caught hiding in a boot at a checkpoint on the Western Freeway in Melton.
Officers were alerted to the man after a truck driver spotted him climbing into the boot.
Both the male and the female driver were handed a $330 fine. The man was also given a $1650 fine for breaching Victoria's travel restrictions.
NSW has recorded 10 new cases of COVID-19 in the past 24 hours while Victoria recorded 63 new cases and five deaths.
Sign up to our Coronavirus Update newsletter
Get our Coronavirus Update newsletter for the day's crucial developments and the numbers you need to know. Sign up to The Sydney Morning Herald's newsletter here and The Age's here.
Most Viewed in National
Source: Read Full Article